These Celebrity Houses Prove That Money Doesn't Buy Taste
It's no secret that celebrity homes are a source of fascination – they offer an insight into a life many of us dream about. But some celebs take it too far, and their homes become more of a 'what not to do' when it comes to decor.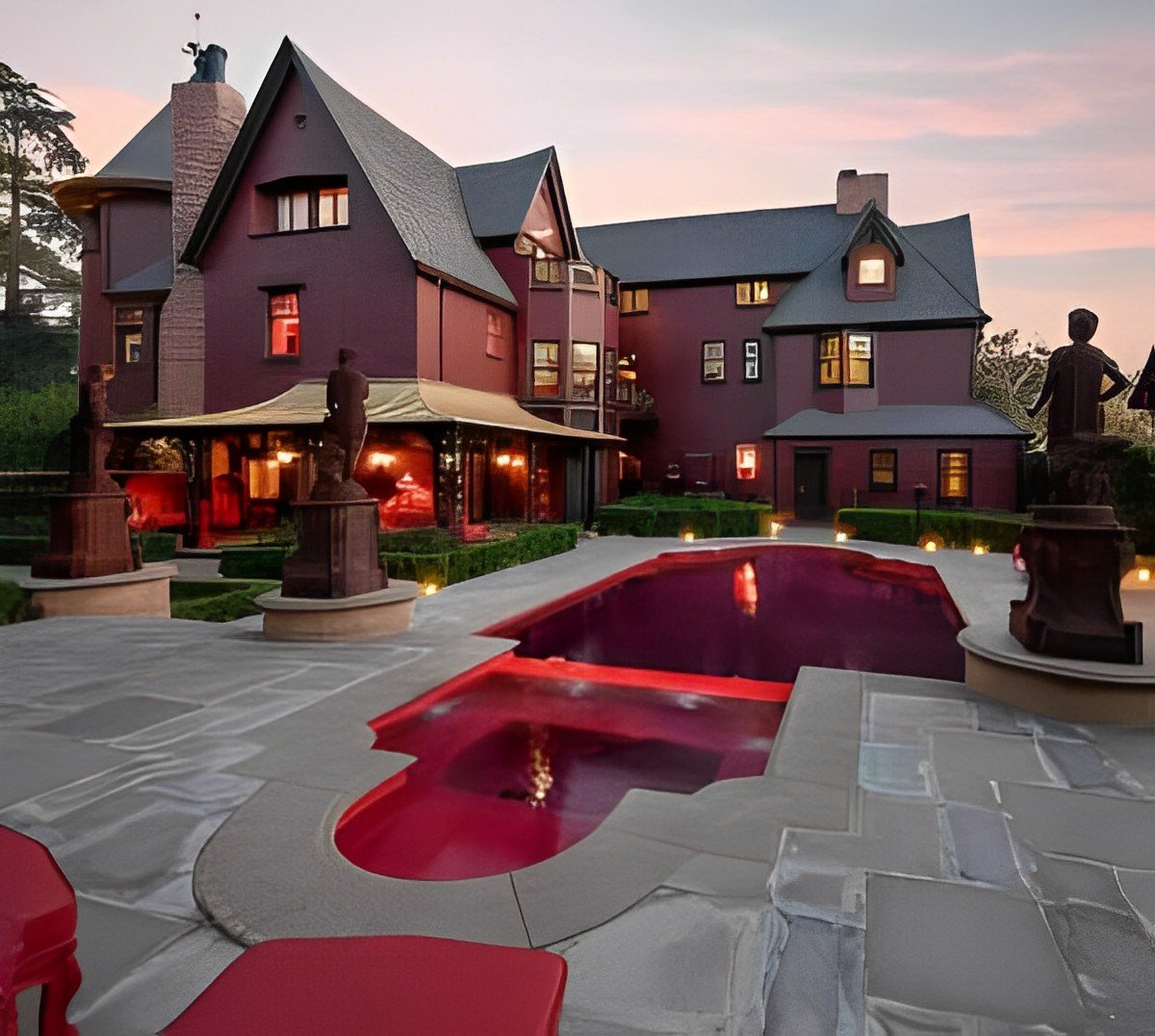 From extravagant to downright ugly, here are some of the tackiest celebrity homes around. Which celeb houses earned their place on this list?
Experience the Luxury of Aviation at John Travolta's Home! 
John Travolta, the famous actor from Grease, Pulp Fiction, and Saturday Night Fever, resides in the Jumbolair Aviation Estates in Ocala, Florida. His luxurious mid-century modern-style house is no ordinary abode – it has two aircraft runways leading directly to the front door!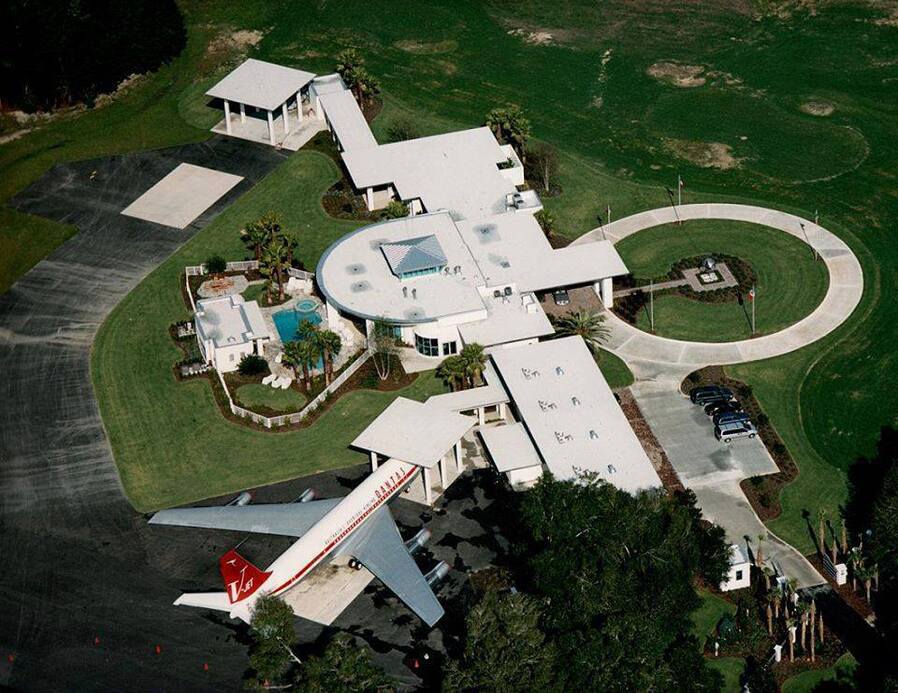 With over 7,000 square feet of living space, five bedrooms, five and a half bathrooms, a swimming pool with an indoor cabana, a 16-car garage, two kitchens, and three dining rooms, this house is truly a sight to behold. And the view? It's centered around Travolta's love of flying with planes parked just 100ft away.
Welcome to the Neverland Ranch - Home to the King of Pop 
Welcome to Neverland Ranch – the home belonged to the King of Pop, Michael Jackson. A sprawling 2,700 acres, the ranch was famously named after J.M. Barrie's Peter Pan story. Its 12,000-square-foot main house contains six bedrooms, staff quarters, two guest houses, and 22 structures.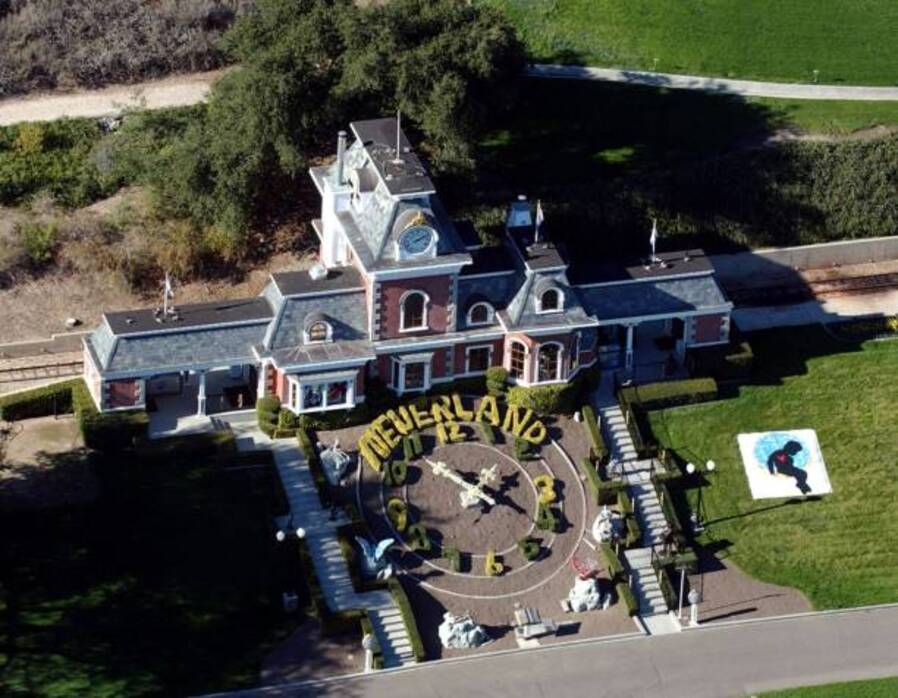 If that's not enough, there's also a zoo, amusement park, train station, dance studio, and a 50-seat movie theater! Unfortunately, a dark cloud of suspicion lingered over the ranch after Jackson was accused of child sexual abuse. He never returned. Today, the ranch is known by its original name, Sycamore Valley Ranch, and is a reminder of the legacy of the King of Pop.
Experience Magical Living in Penn Jillette's Desert Home! 
Discover the enchanting world of Penn Jillette – half of the Penn & Teller duo – at his 7,900 square foot home in the Mojave Desert in Las Vegas, Nevada.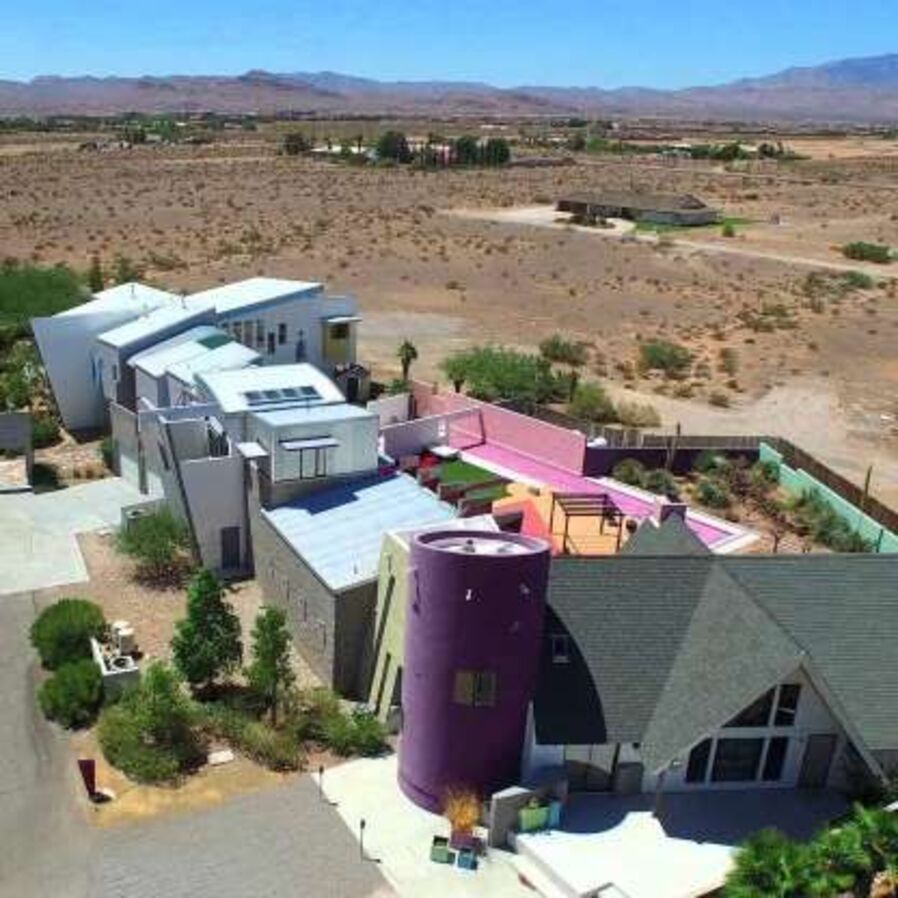 This abode is full of surprises, from a 14-seat home theater and recording studio to a quirky mugshot wall and scrabble tile bathroom. Outside, the lap pool and koi pond are set against the backdrop of the desert create a stunning contrast. You don't want to miss out on this one-of-a-kind experience!
Naomi Campbell's Lavish Capital Hill Residence 
Naomi Campbell is renowned for her successful modeling career and is one of the original supermodels. Her then-boyfriend, Vladislav Doronin, created a magnificent spaceship-style house for her in Barvikha, west of Moscow, as a wedding gift.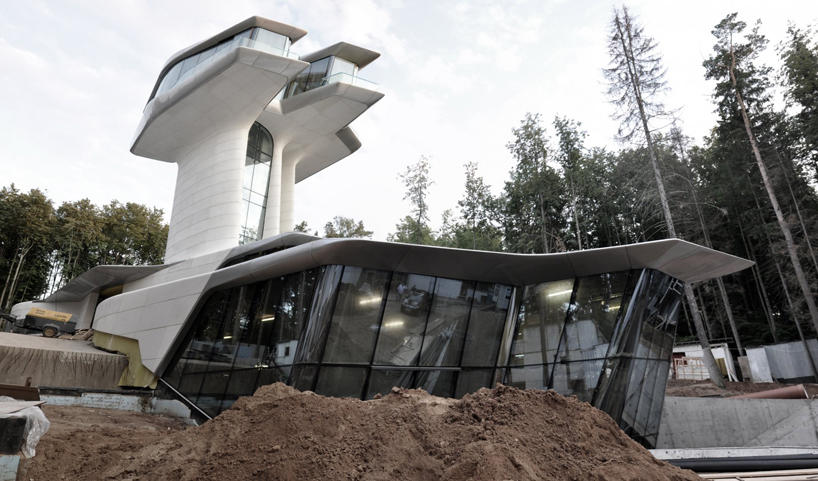 Called "The Capital Hill Residence," it features a 65-foot-high floating wing, offering a stunning panoramic view of a nearby forest. Zaha Hadid drew inspiration from renowned Barcelona architect Antoni Gaudi while designing this 28,000-square-foot house. It boasts many extravagant features, such as an indoor pool, a gym, a Russian bath, a Turkish bath, a Finnish sauna, and its very own reception hall!
Katy Perry's Convent: A Story of Legal Dispute 
Katy Perry is a global superstar renowned for her vocal talent and chart-topping hits! Recently, she bought a Los Feliz convent for a whopping $14.5 million, including 15 bedrooms and 15 bathrooms, a lower lounge, a prayer house, and a pool that overlooks the city.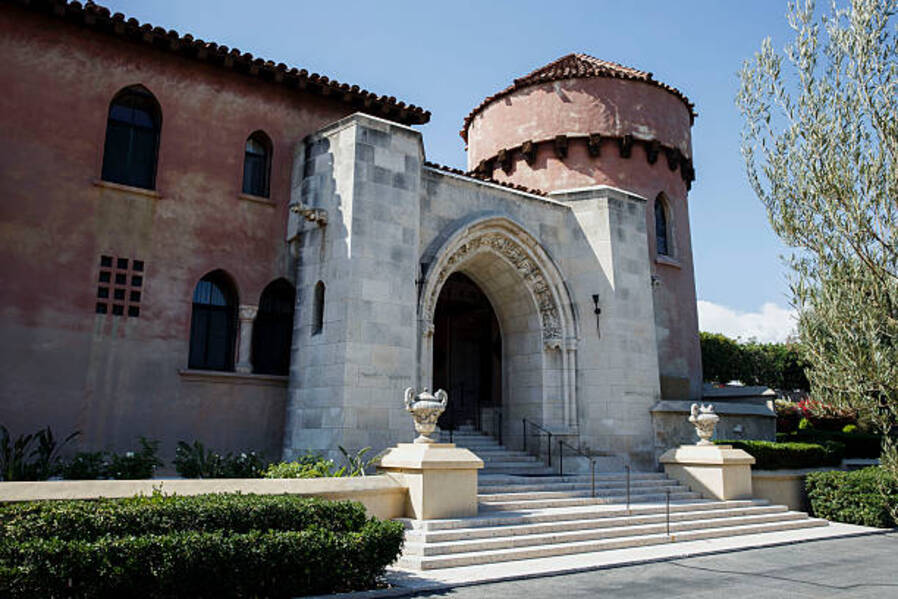 However, Perry's purchase was met with a legal dispute from restaurateur Dana Hollister, who had made a deal with the Sisters of the Immaculate Heart of Mary to purchase the property. After a lengthy lawsuit, Perry emerged victorious. Hollister was to pay a hefty $6.5 million in damages.
A Futuristic Abode: Bob Hope's Residence on San Jacinto Mountain 
Perched atop San Jacinto Mountain in Palm Springs, California, is the iconic abode of the late Bob Hope. This 23,000-square-foot futuristic home, designed by John Lautner in 1979, looks like a spaceship to some and a mushroom to others. With its ten bedrooms, thirteen bathrooms, pool, and tennis court, this residence is truly a sight to behold.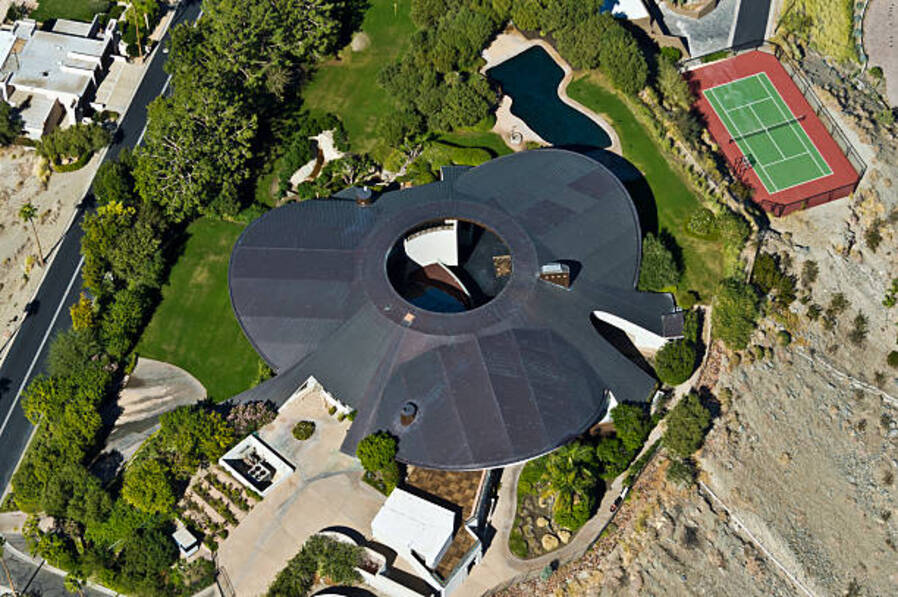 Inside, a boulder protrudes into the living room, and a round ceiling opening offers stunning views of the night sky. The glass wall at the rear of the house overlooks the Coachella Valley, and the copper roof gives a nod to the mountains around it. A visit to this home is sure to be a unique experience.
Tom Ford's Magnificent Cerro Pelon Ranch
Tom Ford, the iconic fashion designer, purchased the magnificent Cerro Pelon Ranch for $75 million. Spanning 20,000 acres, it's one of the largest properties in the area, including part of the Galisteo river. Designed by Tadao Ando, the main residence features a reflecting pool and an eight-horse barn with indoor and outdoor riding rings.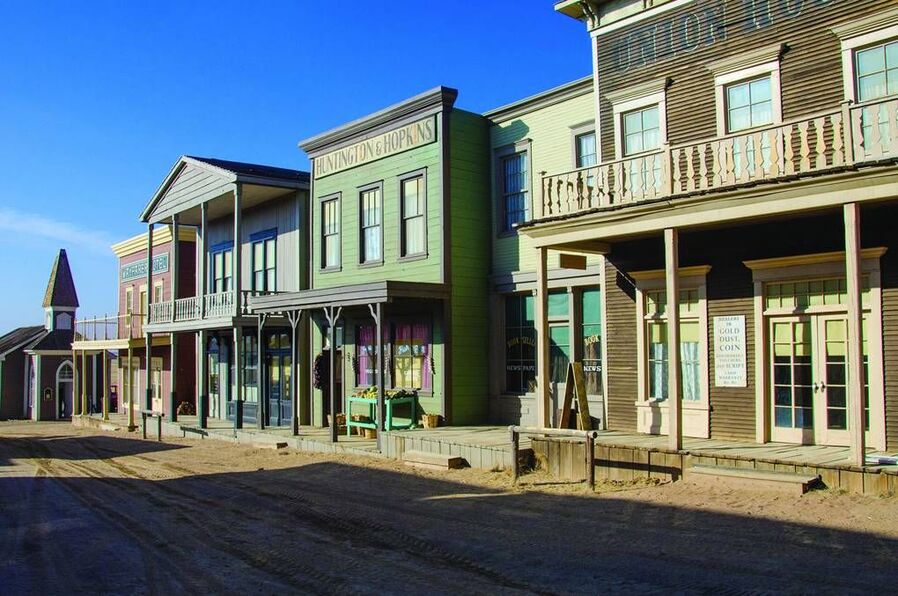 This western movie town set, used in films such as Silverado, All the Pretty Horses, Wild, Wild West, and Thor, is also part of the property. Plus, there's an airstrip and equestrian facilities. The ranch also has two guesthouses and housing for staff. 
Rocker Jordan McGraw's Tim Burton-Inspired Hollywood Home 
Enter the world of rocker Jordan McGraw, son of Dr. Phil, and experience a tribute to American filmmaker Tim Burton at his Hollywood home. From a large water fountain shaped like a serpent to the reception area's grand bejeweled bar, this Mediterranean-style villa has it all.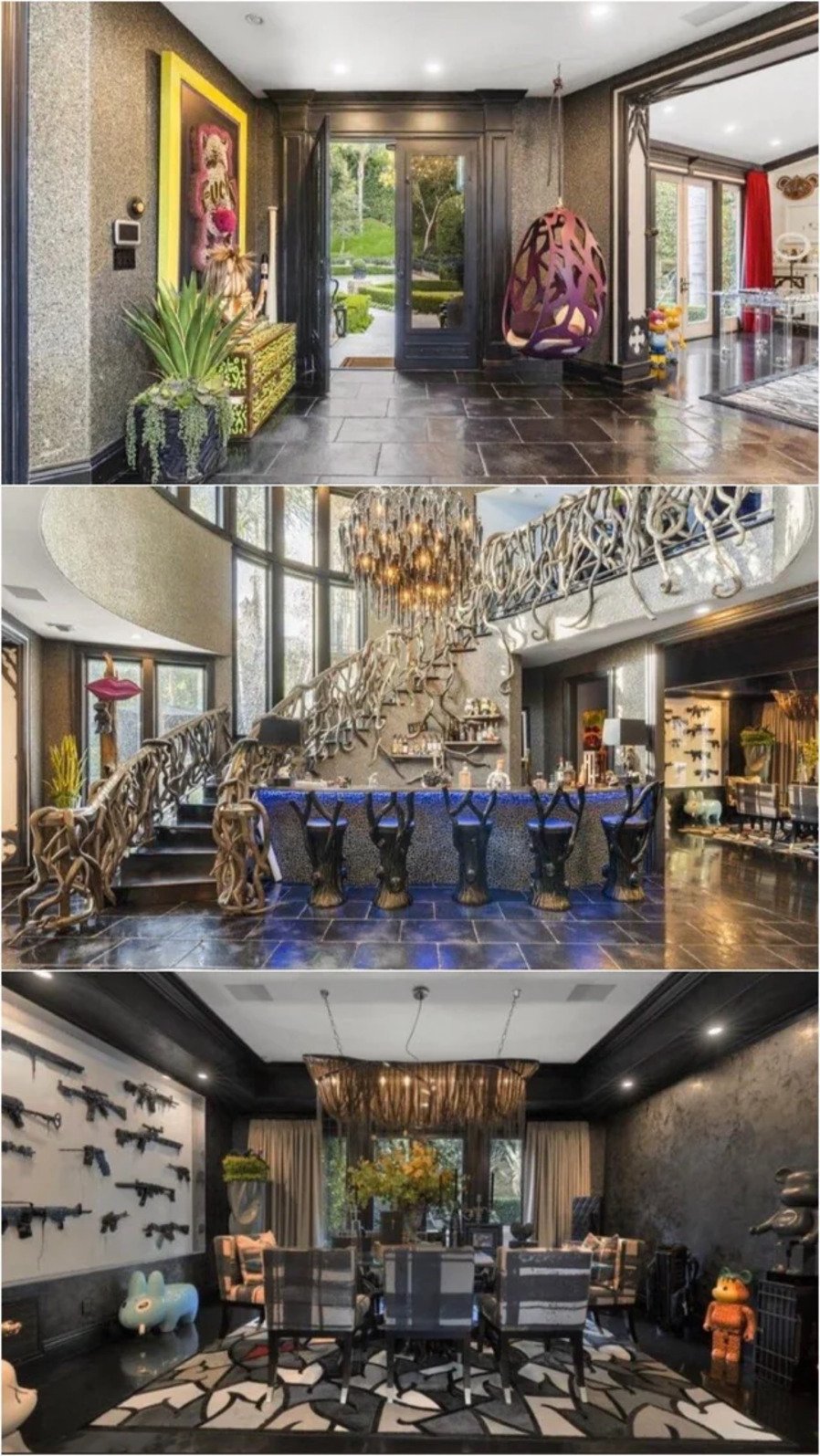 Explore the rabbit hole-inspired entryway and the all-black kitchen with color-changing lights, or enjoy the in-house studio, pool table, pinball machines, and electric guitars. After a dip in the swimming pool with floating mini golf, relax with a grand piano and some furry friends. Dr. Phil's son has truly made this Tim Burton-inspired home in the Hollywood Hills his own.
Explore the Stunning Flintstone-inspired House of Dick Clark! 
Explore the stunning Flintstone-inspired house of Dick Clark, the American icon of radio and television, producer and actor, and best known for hosting American Bandstand for over three decades. The 2,500 square-foot house sits on 23 acres with breathtaking views of Serrano Valley, the Boney Mountains, the Channel Islands, and the Pacific Ocean.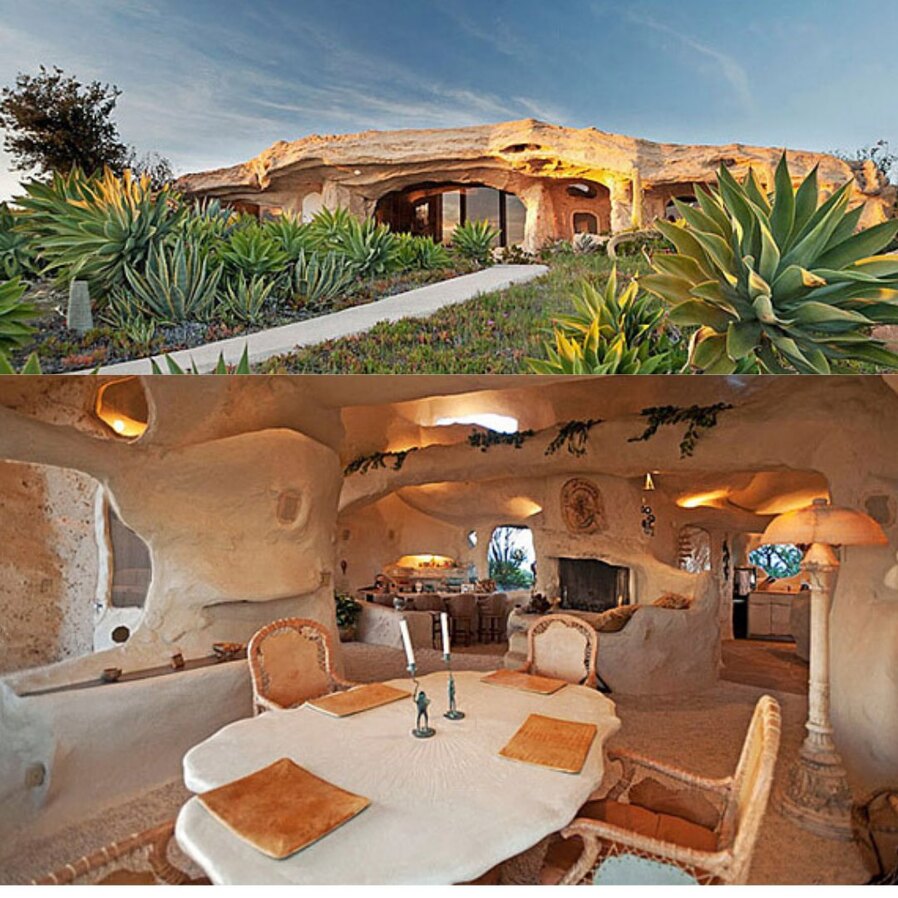 Though it only has one bedroom and two bathrooms, it boasts a wine cellar and a private beach. The color scheme is a light stone look, with vaulted ceilings. The exterior is heavy stucco brushed while still wet, giving the house a unique aged look. 
Discover the Spectacular Details of Kat Von D's Victorian Mansion 
Step into the world of Kat Von D and explore her magnificent Victorian mansion. Built in 1896 by Isaac Newton Van Nuys, this 3-story home boasts 11 bedrooms, 8.5 bathrooms, and a 27,000-square-foot gated lot.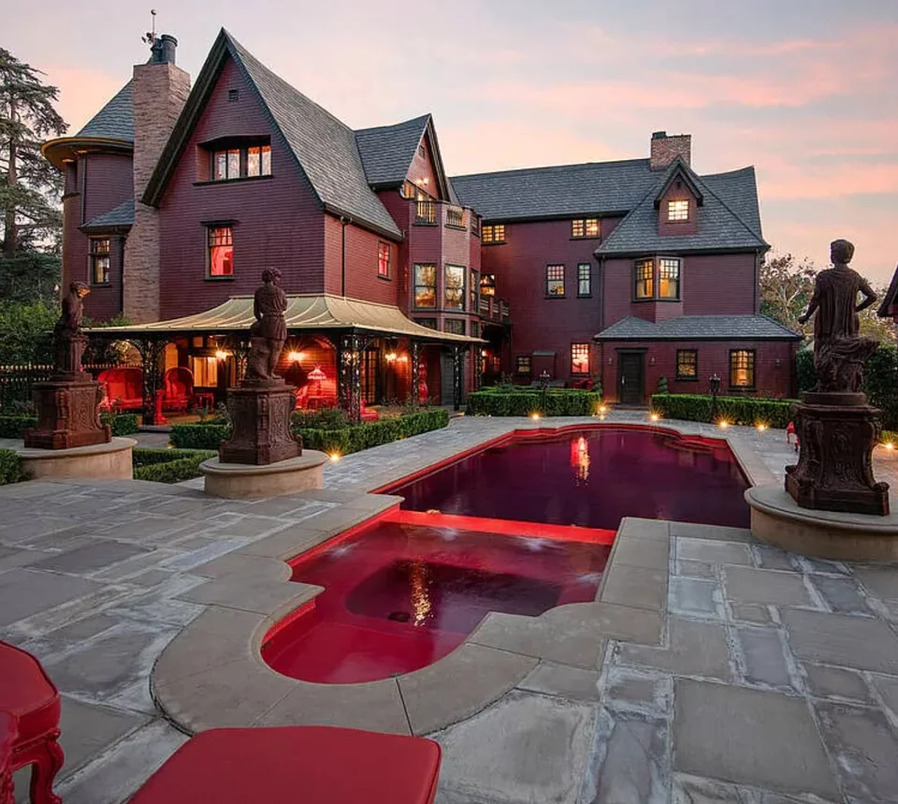 The interior is regally decorated with dark wood paneling, marble fireplaces, chandeliers, velvet, linenfold paneling, stained glass, textured ceilings, golden accents, and more. Outside is a red brick façade surrounded by green topiaries with gold leaves and a bright-red pool. It also features a maze-like hedge leading to the front door. This stunning property truly is a work of art.
Step Inside Kylie Jenner's Colorful Home 
Come and take a tour of Kylie Jenner's glamorous home! From Andy Warhol prints to multicolored pendant lights, the reality star has decorated her abode with pops of color. Her massive closet, complete with lacquer shelves, lighting, and a chandelier, is a sight to behold.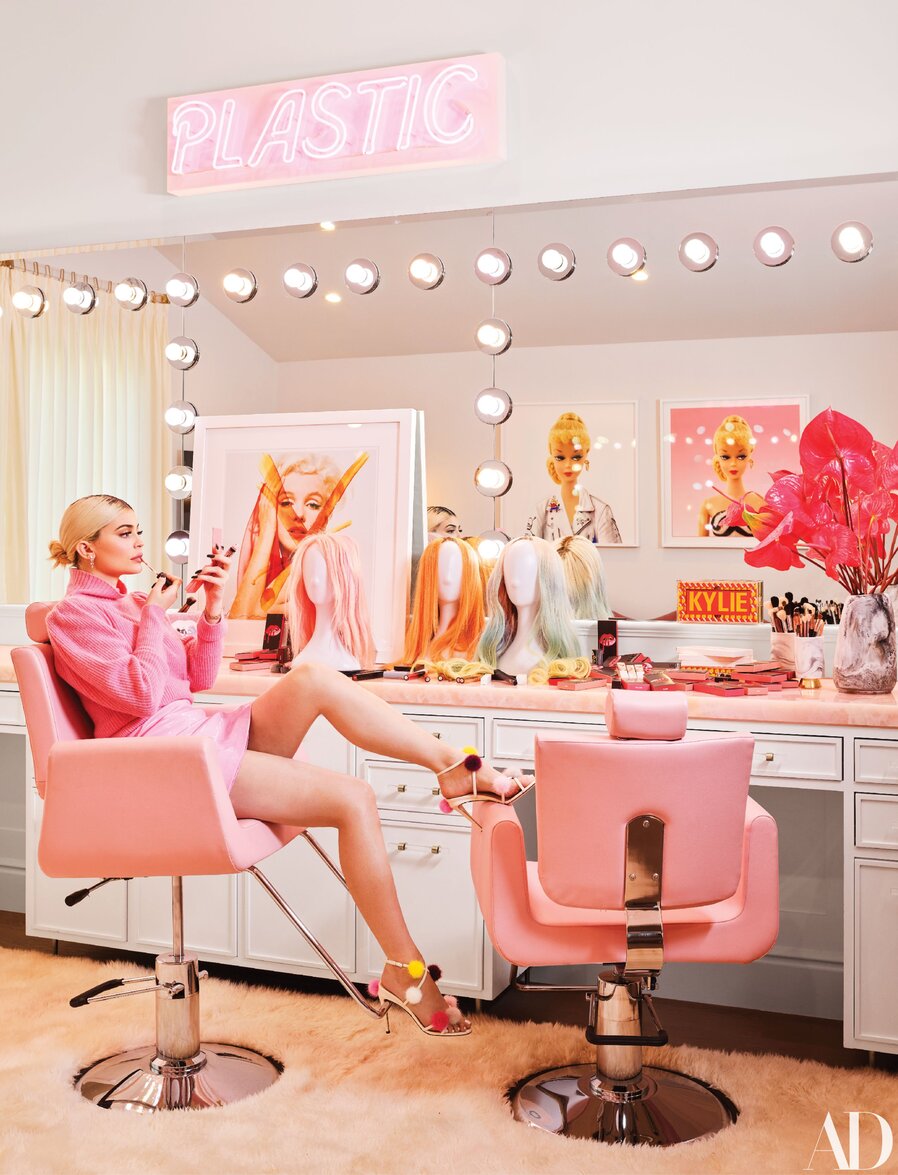 Kylie's love of all things pink is evident in the custom dining chairs and her daughter's butterfly mural room. The living room is the exception, primarily gray. Come and explore the abode of the young entrepreneur and reality T.V. star!
Get Ready to Soar - Jackie Gleason's UFO-Shaped House 
Jackie Gleason, an American comedian, and actor, had an affinity for outer space that led him to build a UFO-shaped house! Located in Cortlandt Manor, New York, the complex spreads across eight acres and contains a main house and a guest house aptly named the "Mother Ship" and "Spaceship."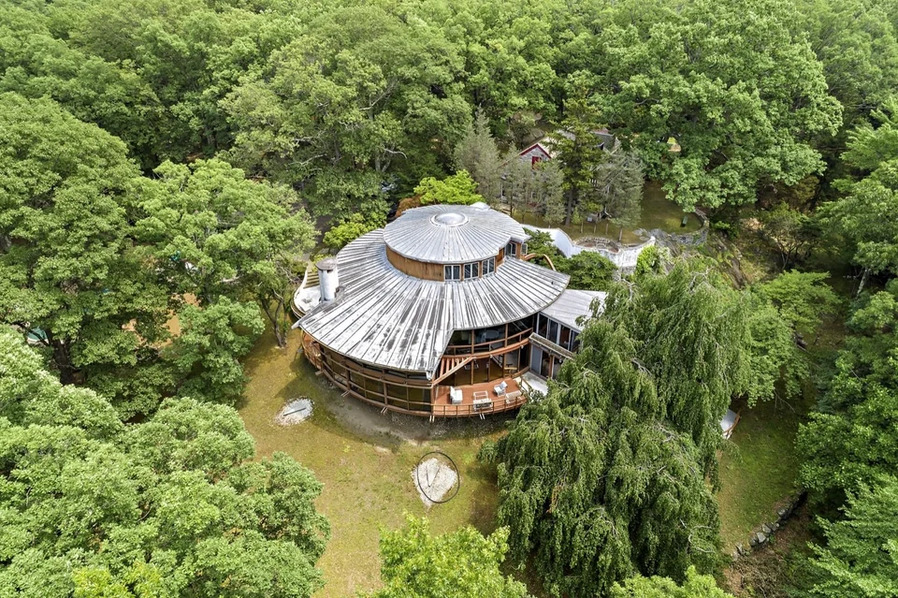 Inside, the circular foyer leads to a private library and a spiral marble staircase. The main house has five bedrooms, six bathrooms, and a bar that seats 14, while the guest house has two bedrooms, two bathrooms, and a kitchen. And the master bedroom even has its very own round bed with a TV overhead! It's truly a one-of-a-kind experience.
Randy Travis' Ranch: A Country Star's Home Away from Home
Randy Travis is an American country music star, songwriter, actor, and guitarist. His luxurious ranch in New Mexico features an 8,750 square-foot main house that boasts five bedrooms, eight bathrooms, ten fireplaces, a fitness area, a chef's kitchen, a theater, a library, and a home office.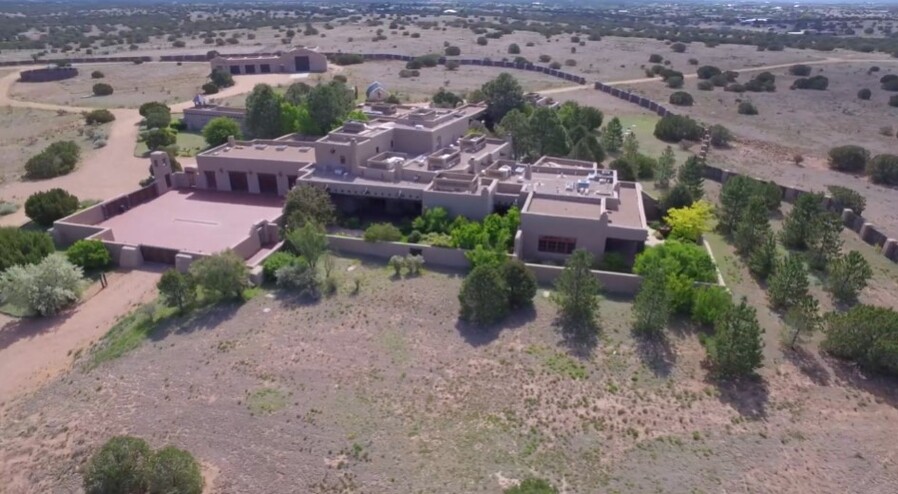 Other amenities include a heated pool, a guest house, an outdoor kitchen, a 3-car garage, a barn for his horses, cows, and pet buffalo, a bowling alley, and a shooting range. Plus, the views of the Sangre de Cristo and Jemez Mountains are breathtaking! Decorated with hundreds of crosses by his wife, Elizabeth, Travis' ranch is the perfect home away from home.
Contrasting Styles: Red Hot Chili Peppers' Flea's Two Houses 
Flea, the founding member and bassist of the Red Hot Chili Peppers, has a unique property in La Crescenta, California. The 5.7-acre compound consists of two houses with both mid-century modern and futuristic designs. The original 1952 house is 1,350 square feet with two bedrooms and one bathroom, while the 2009 addition is one bed, one-and-a-half bathroom, and features an atrium.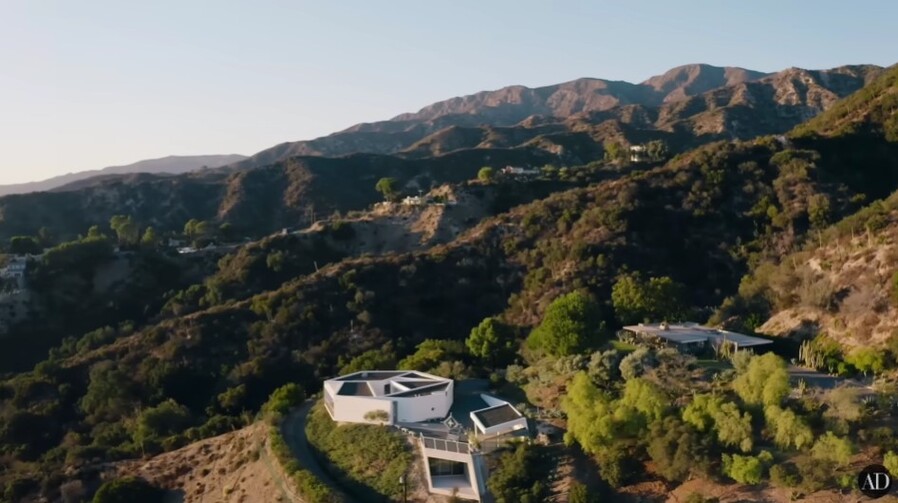 The two houses are connected by a driveway and have a pavilion. There are many windows to let in natural light and features such as a stone fireplace, a built-in breakfast nook, and a sound system with a record player – the two-house compound provides contrasting styles.
Explore 'Ole' Blue Eyes' Retreat: Villa Maggio 
Frank Sinatra's retreat, Villa Maggio, is a secluded hideaway 20 minutes from Palm Desert's shops and restaurants. Spanning 7.5 acres with breathtaking views, the property features a main house with five bedrooms, a guesthouse with three bedrooms, and a pool house with one bedroom.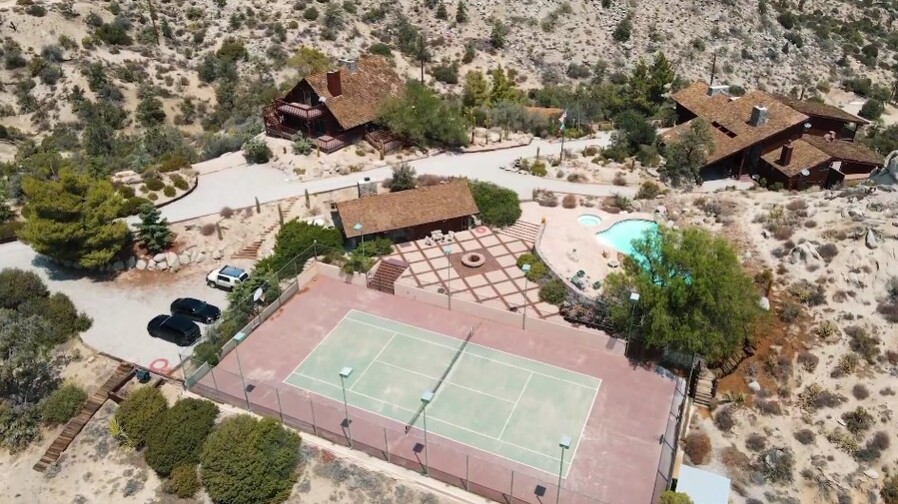 It also boasts a resort-style pool, a tennis court, and a fire pit, with spectacular mountain and valley views. There's even a helipad! Step into the shoes of the iconic 'Ole Blue Eyes' by exploring his hideaway.
Uncle Jesse's Magical Disney Room 
John Stamos – the famous American actor known for his iconic role in Full House and his "Have mercy!" tagline – is a huge Disney fan. He proudly displays his collection of memorabilia from both U.S. Disney parks in his Disney music room, complete with a gargoyle from the Haunted Mansion, a Can-Can dancer from "It's A Small World" and an original pirate bust from the Pirates of the Caribbean ride.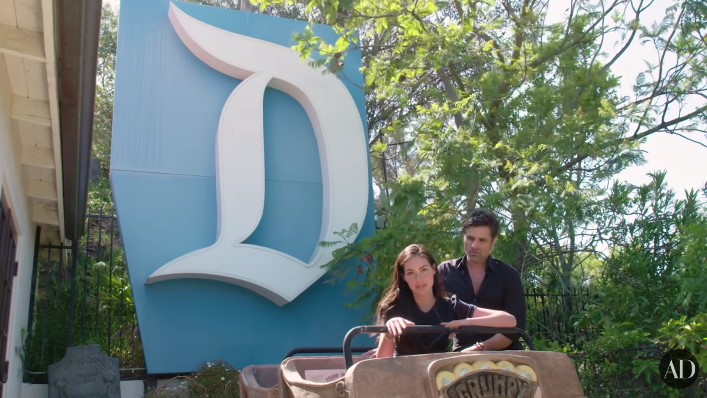 And to top it off, Grumpy – one of the actual ride vehicles from the former Snow White attraction – and guitars from his Uncle Jesse persona. His wife is just as big of a Disney tragic as he is – what a lucky man!
Unveiling the Mysterious Paisley Park: Explore the Legendary Home of Prince 
Unlock the secrets of the mysterious Paisley Park, the legendary home of the world-famous artist Prince. From its 12,500 square feet soundstage to its velvet sofas, balcony, dance floor, and enormous video screens, the complex in Chanhassen, Minnesota, is a sight to behold.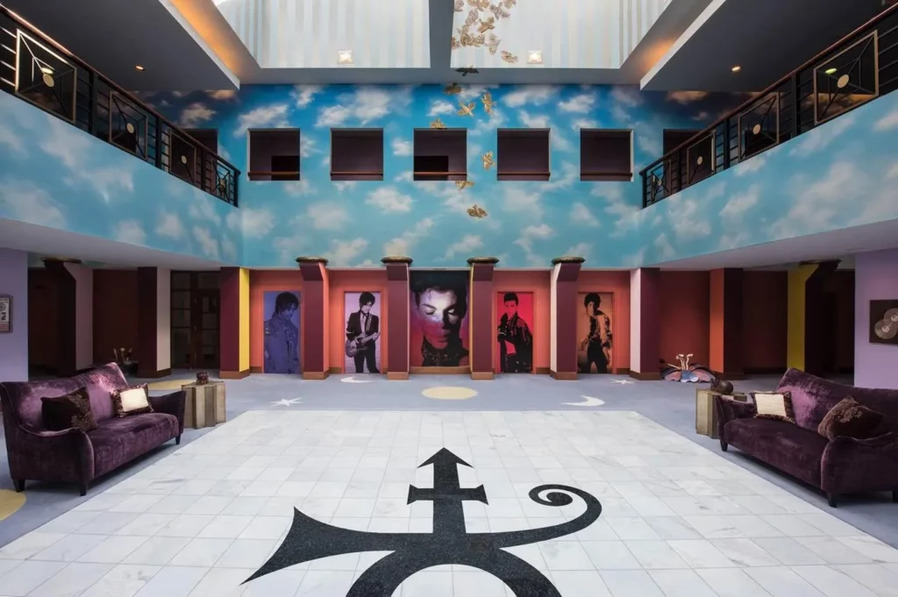 Step inside the all-white aluminum building and discover the Galaxy Room, where Prince used to meditate and relax, and see the music club that hosted his After Dark dance parties. But why is the building round? Let's explore and find out!
Catch the Waves of Luxury with Alicia Keys' Stunning Razor House 
Alicia Keys has achieved immense success, with over 65 million records sold and 15 Grammys won. Her stunning Razor House, located on the edge of La Jolla bluffs in Torrey Pines State Park, San Diego, is a sight to behold.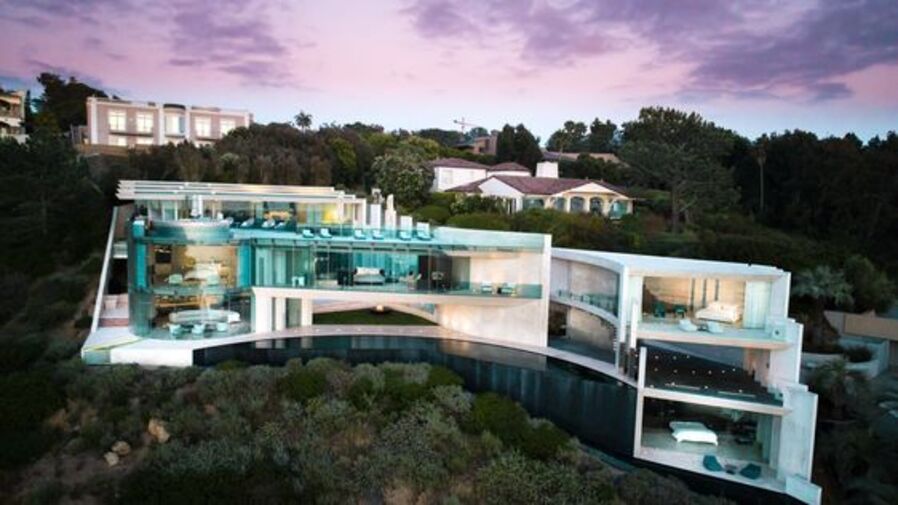 This 10,240-square-foot abode features two master suites, two kitchens, a library, a movie theater, and stunning floor-to-ceiling windows so that you can take in the view from anywhere. Decorated in light neutral hues, this house is the perfect place to relax and watch the waves.
Get a Glimpse Inside Lil Wayne's Luxurious Mansion 
Lil Wayne, the famous American rapper and Grammy winner, resides in a lavish mansion located on Allison Island. Built in 2017, the house boasts 110 feet of water frontage on Biscayne Bay, 10,600 square feet of living space, and a three-car garage.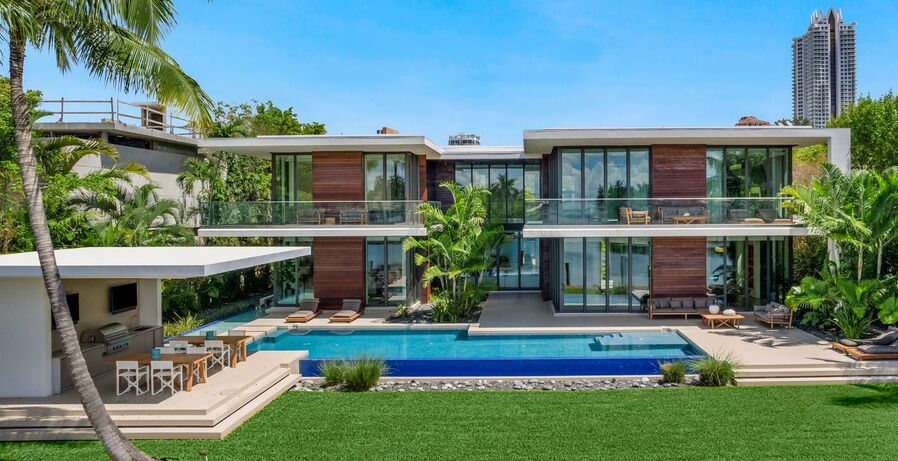 Visitors are greeted with mahogany finishes, 22-foot ceilings, two family rooms, a movie theater, a primary suite with separate bathrooms, a walk-in closet, and a lounge area. Outdoors, the backyard features a pool, al fresco dining, a cabana, and a rooftop skatepark. With its shark lagoon and glass elevator, this luxurious abode is fit for royalty.
Cage's Creepy Connection: The Infamous LaLaurie Mansion 
Nicolas Cage is no stranger to the macabre, having acquired many disturbing and horrifying artifacts. This includes owning one of the most haunted homes in America, the New Orleans house of Madame Delphine LaLaurie and her husband, Dr. Louis LaLaurie.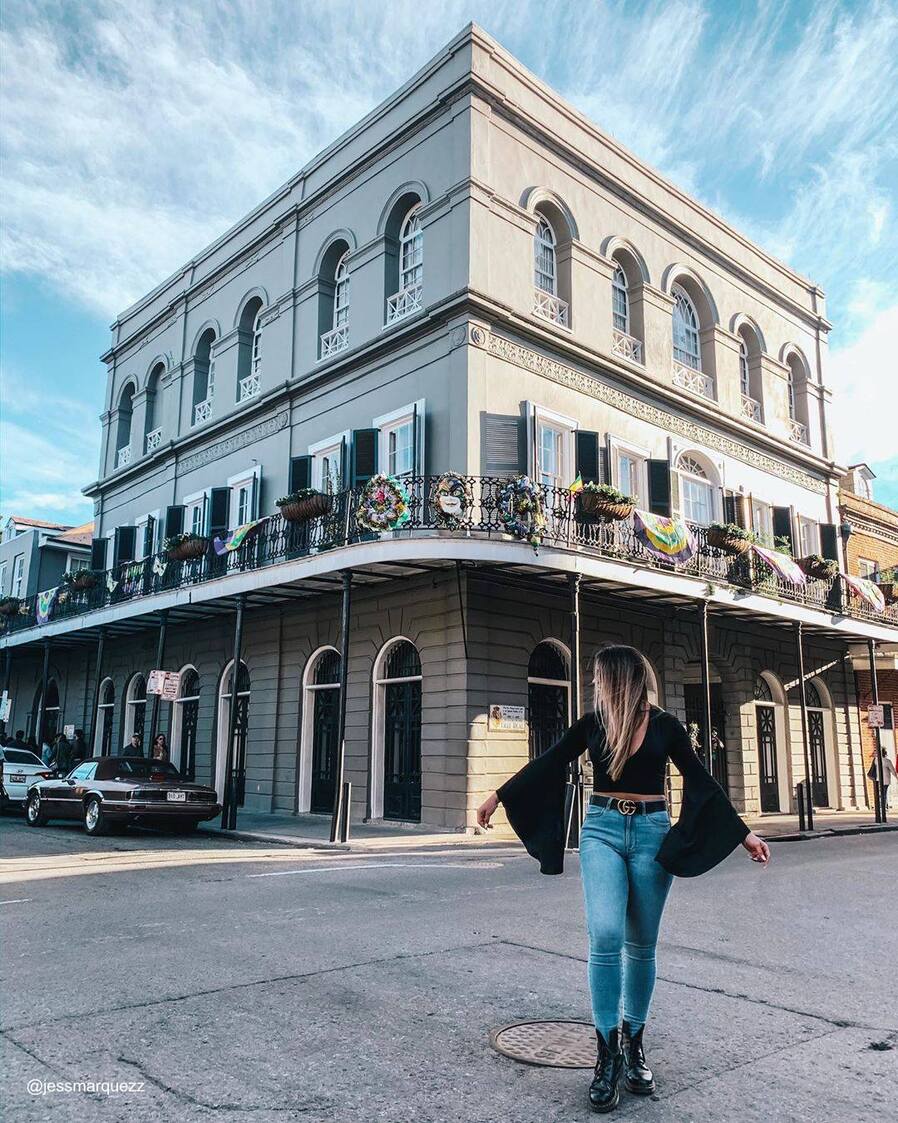 Built in 1832, it was an awe-inspiring property in the French Quarter, but rumors of Madame LaLaurie's cruelty towards her enslaved people ruined its reputation. After a fire, the mansion was pillaged and the LaLauries fled to France. The house remains destroyed, but some whisper Madame LaLaurie was later buried in the St. Louis Cemetery upon her death.
Gaga's Outrageous Abode 
Lady Gaga is known for her wild fashion choices and powerful music. Now, the singer is making headlines with her new purchase – Frank Zappa's former house in Los Angeles.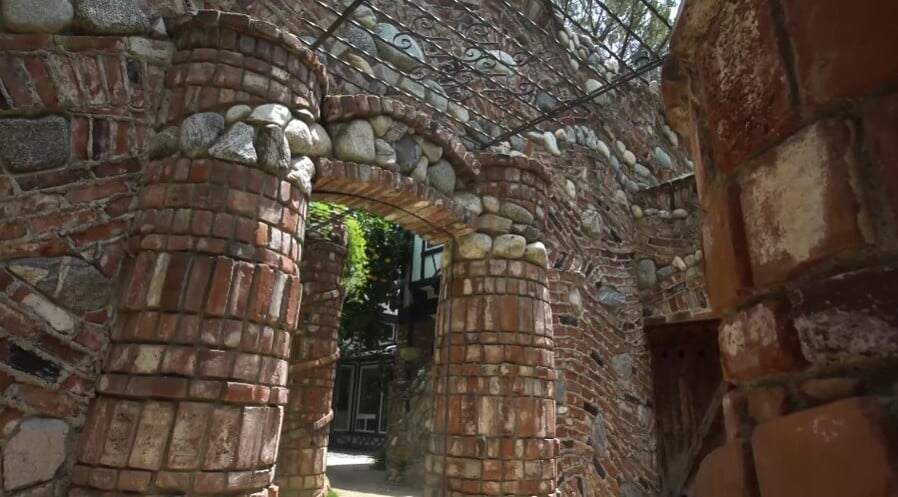 The 7,000-square-foot Tudor-style abode includes two guest houses, a staff apartment, a recording studio, and several whimsical features, including porthole windows, a dragon mural, and a rooftop tennis court. Gaga is sure to make this house one of a kind that will be remembered for years to come.
Diane Keaton's Spectacular Adobe Estate in Tucson 
Discover Diane Keaton's spectacular estate located in the Barrio Viejo neighborhood of Tucson, Arizona. Built in the 1880s, the 4,572 square foot house sits on 1/3 of an acre and includes four bedrooms, 3.5 bathrooms, a library, and a separate guesthouse with an additional four bedrooms.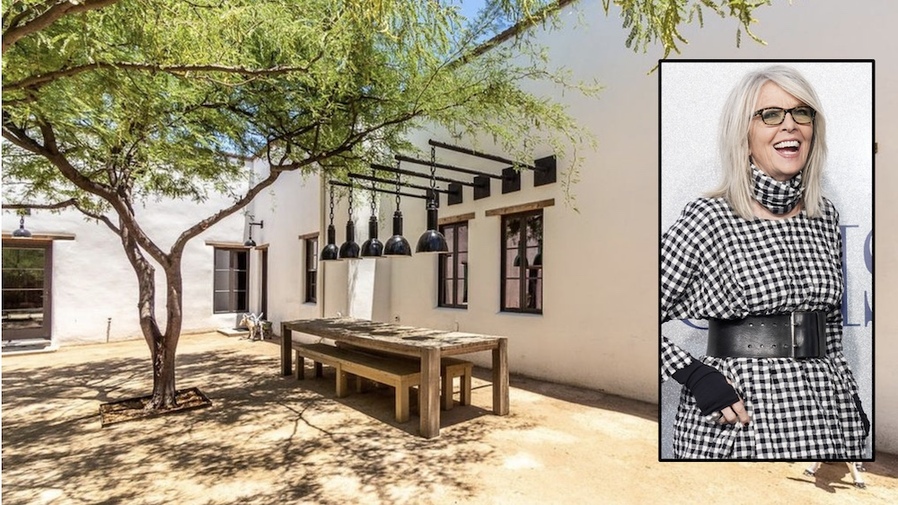 Inside, the house features charming sitting rooms, exposed mud plaster or adobe walls, wide-plank flooring, and exposed beams on the ceiling. Enjoy the desert-inspired décor and take a dip in the swimming pool that Keaton added during the renovation.
Step Inside Rihanna's $7 Million Fortress! 
Experience the life of a Grammy-winning pop diva with Rihanna's luxurious $7 million Fortress! Located in Hollywood Hills, Los Angeles, this 10,000-square-foot home has eight bedrooms, 12 bathrooms, and a 2-bed guest house.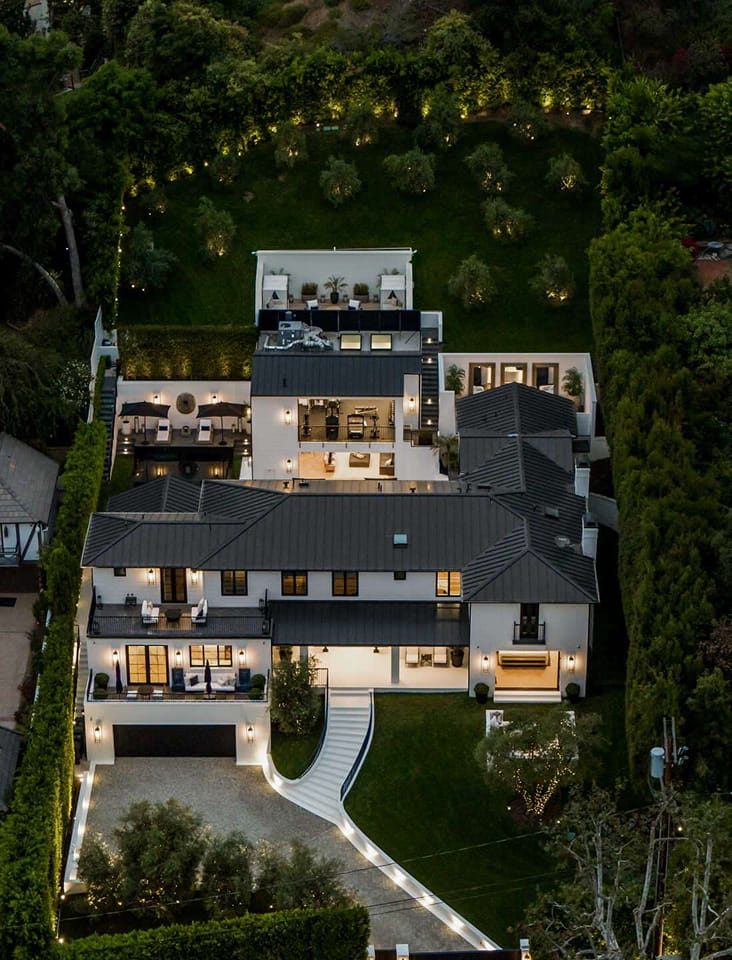 The high-end furnishings, lush garden, and lap pool with a 12-person jacuzzi outside complement the cold concrete interior and 40-foot ceilings in the foyer. The billiard room with a D.J. booth and professional light and sound system, a gourmet kitchen, a sauna, and a screening room, add to the opulent feel of this unique property.
Step Inside the Cold and Sterile Mr. Chow Mansion 
Experience the unique style and grandeur of the iconic Mr. Chow Mansion! Located in the Holmby Hills neighborhood of Los Angeles, the 30,000-square-foot mansion was constructed to house Mr. Chow's art collection and was fashioned after the Reina Sofia Museum in Madrid, Spain.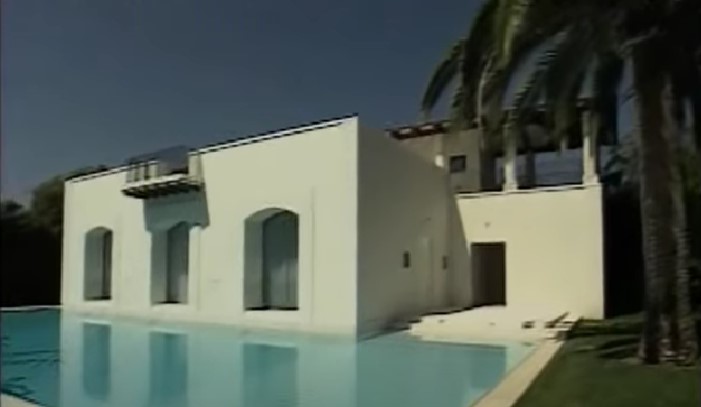 Inside you'll find nine bedrooms, ten bathrooms, hand-carved wood doors, a library, 400-year-old Moorish columns, 16th & 17th century Florentine ceilings, a rooftop terrace, a 40-seat screening room, a billiards/piano room, and an outdoor swimming pool. 
Explore Gwen Stefani's Unique Mansion 
Step inside Gwen Stefani's remarkable mansion, which is as unique as the singer-songwriter herself! Purchased in 2006 with her then-husband, Gavin Rossdale, the two-house property sits on two acres with a total living space of 15,018 square feet.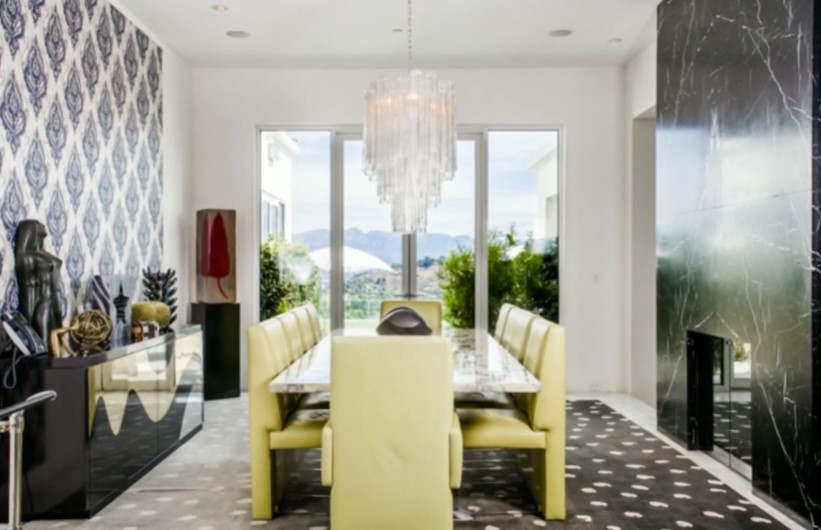 The driveway is gated and 250 feet long and leads to the main house. Inside are seven bedrooms, ten bathrooms, and large living spaces, plus an infinity pool, a lighted tennis court, a bar, a playground, and even a chicken coop. The kitchen and dining room have been remodeled in black and white stripes, giving the house a truly unique, zebra-like look.
Uncovering the Lavish Penthouse of Donald Trump 
Donald Trump is a well-known media personality and businessman who famously served as the 45th president of the United States. His opulent penthouse, located in the Trump Tower on 5th Avenue in Manhattan, New York, is decorated in a gaudy Louis XIV style with marble and 24K gold accents.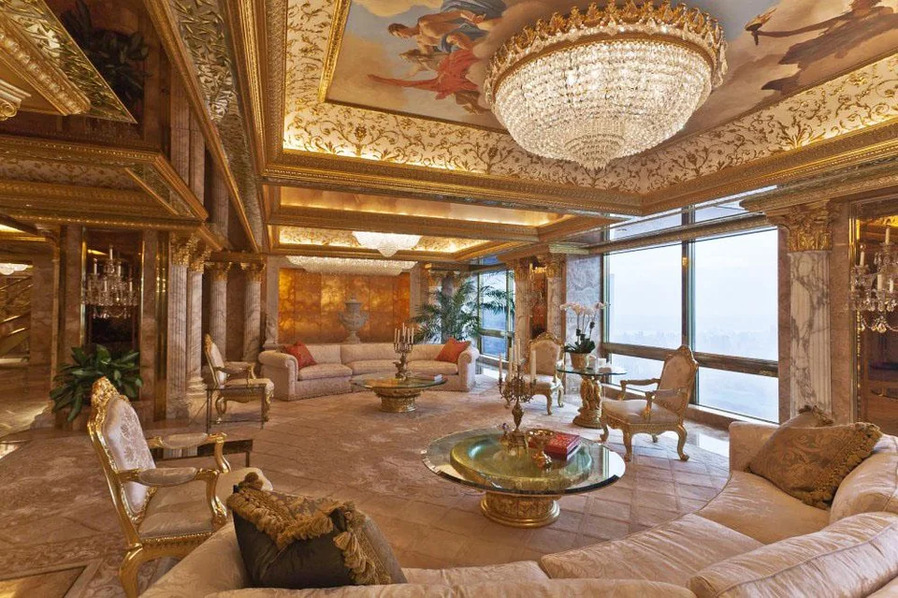 The ceilings are painted with scenes from Greek mythology. Even the breakfast room boasts gold-rimmed cups atop a gold platter, and the sitting room has a fountain and $15,000 coffee table books! However, Forbes staff writer Chase Peterson-Whithorn uncovered that the apartment isn't the 33,000 square feet Trump had claimed, but only 10,996.
Welcome To Paris Hilton's Pooch Palace!
Step inside the luxurious world of Paris Hilton's pooch palace, where even the dogs live extravagantly! The heiress of Conrad Hilton, the founder of the Hilton Hotels chain, is known for her glamorous lifestyle, but her two-story doggie mansion takes the cake.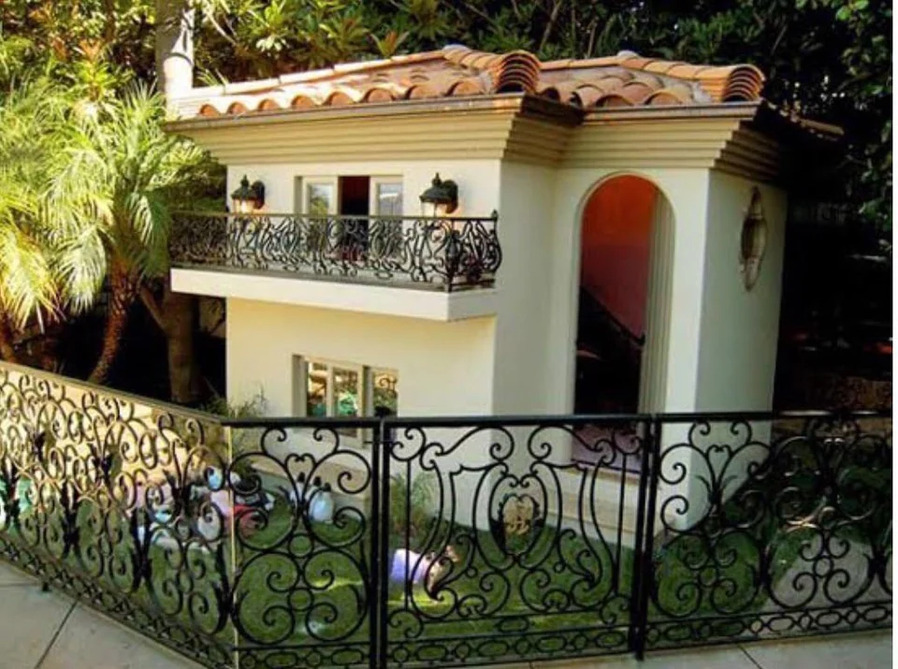 With 300 square feet of living space, the Italian-style mansion includes air conditioning, heating, designer furniture, day beds, and a chandelier for only $325,000! Who said pampered pooches can't live in the lap of luxury?
Welcome to Christina Aguilera's Gaudy and Ornate Mansion 
Step inside Christina Aguilera's lavish Beverly Hills mansion, and you'll be met with a mix of Gothic, burlesque, and contemporary styles. From the red chandelier in the foyer to the cheetah carpeting in her massive closet/dressing room, every corner of this six-bedroom, nine-bathroom house is filled with gaudy and ornate accents.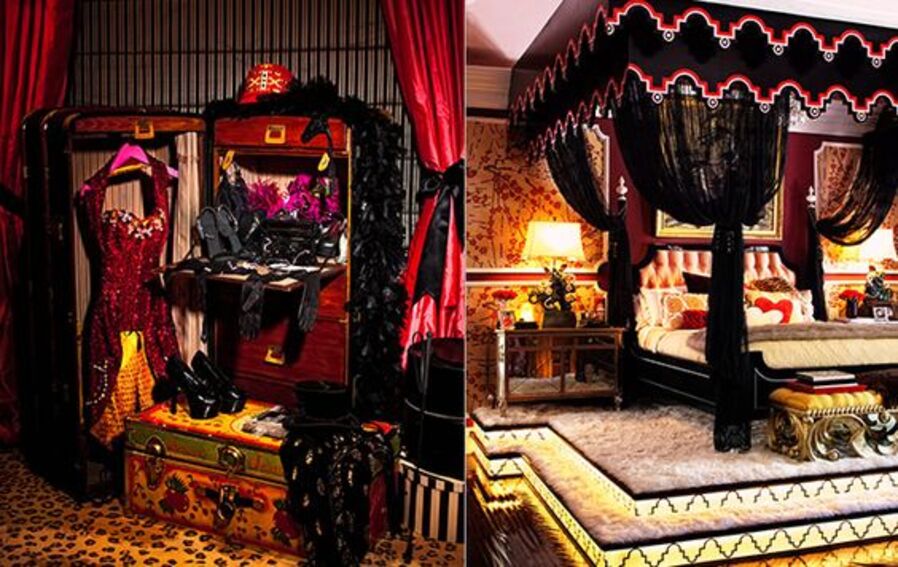 Complete with a game room, movie room, salon area, and a room dedicated to wrapping gifts, the exterior is just as impressive with its pool, water slide, and grotto. Plus, there's a guest house with a recording studio! Pink is the predominant color, with black accents throughout. It's no wonder Christina never wants to leave her home!
Welcome to the Infamous House of Sin! 
Enter the House of Sin, the iconic abode of photographer Richard Franklin, located on Sunset Plaza Drive in the Hollywood Hills. Home to celebrities like Fabio, Russell Simmons, and Sean "Diddy" Combs, it is an 8-story house with four bedrooms, six bathrooms, and 7,500 square feet of living space.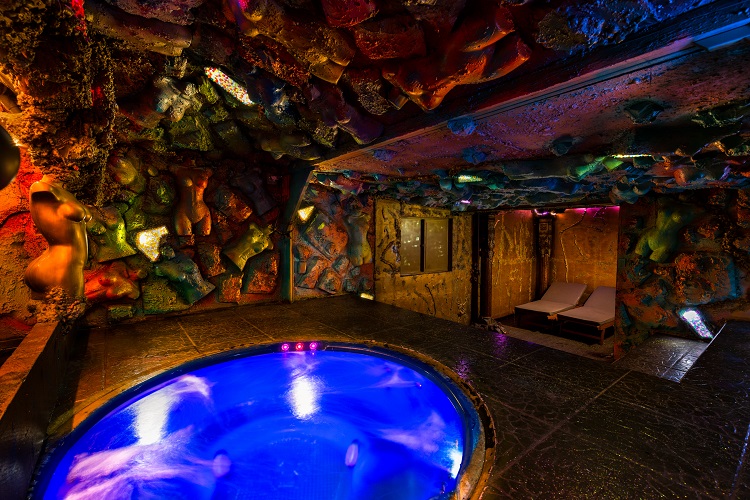 Inside, you'll find a 2-story nightclub, a game room with casino tables, a media room, a rooftop deck, a grotto with mannequin bodies melded into the wall and ceiling surfaces with the jacuzzi and waterfall, and a home gym. Enjoy the stunning views, but don't miss out on the unique interior!
Michael Jordan's 56,000-Square-Foot Mansion 
Experience the star-studded lifestyle of Michael Jordan! From the #23 entrance gates to the original Playboy Mansion doors leading to the game room, this 56,000-square-foot Highland Park estate is the epitome of luxury.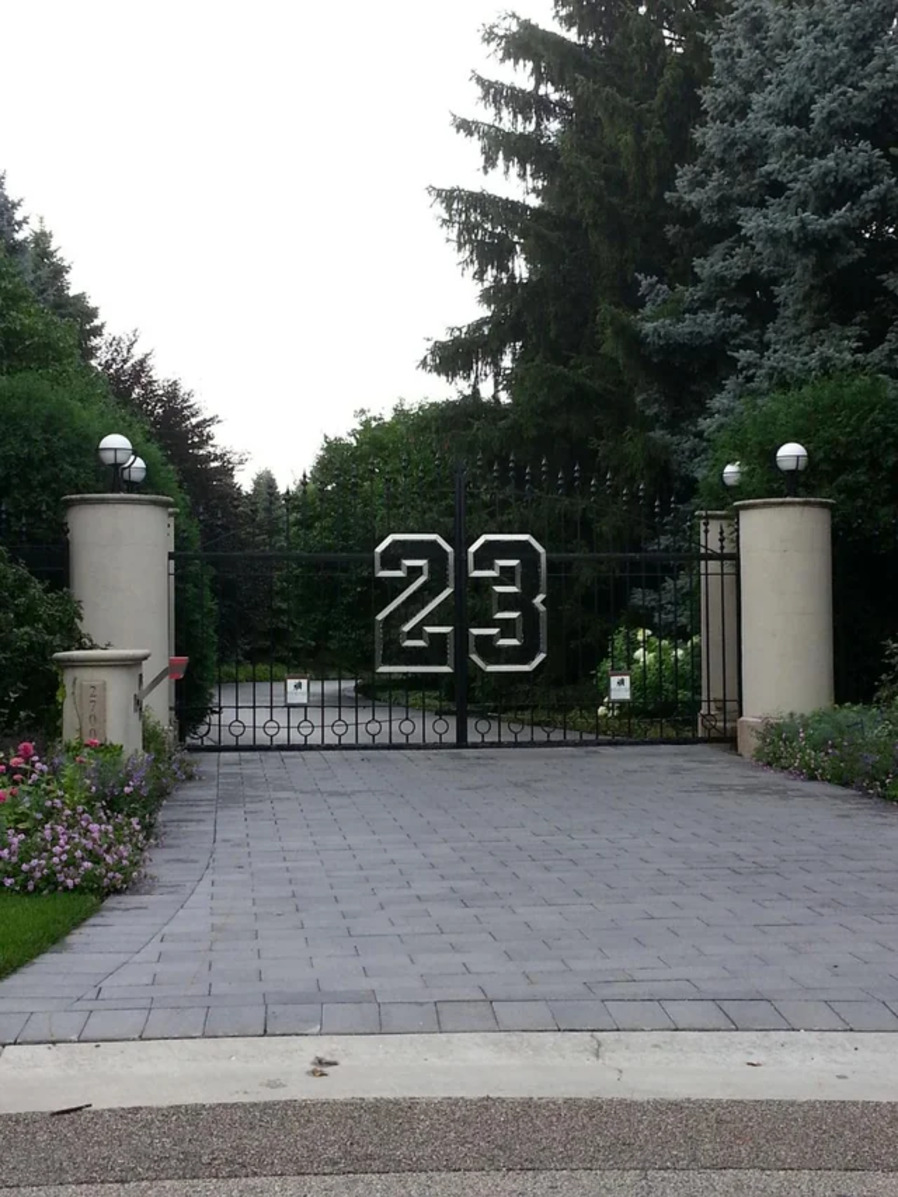 Enjoy the tennis court, infinity pool with grass island, massive patio and putting green outside, and a full basketball court with Jordan's name on each end and his logo at the center inside. After ten years on the market, this unique mansion could be yours!