See Inside Some of the Most Luxurious Boats in the World
Are you ready for a luxurious journey? If so, get your passport ready, because we're about to take you on a cruise around the world to experience some of the most extravagant yachts imaginable.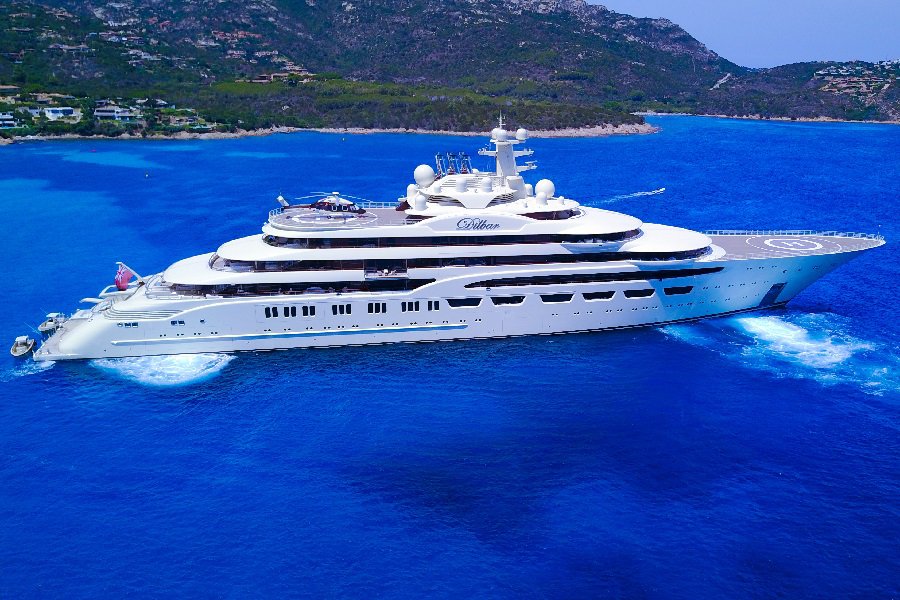 From royal hideaways to lavish floating resorts, let our exclusive list of 30 of the most expensive yachts in the world be your guide. Get ready for an epic voyage!
Step Onboard the One-of-a-Kind $1.5 Billion Superyacht, Eclipse!
Feel like a billionaire oligarch with a step onboard Eclipse, the breathtakingly beautiful superyacht worth an estimated $1.5 billion! Boasting an impressive 533 feet in length and over 70 crew members, this vessel has all of the amenities you could dream of.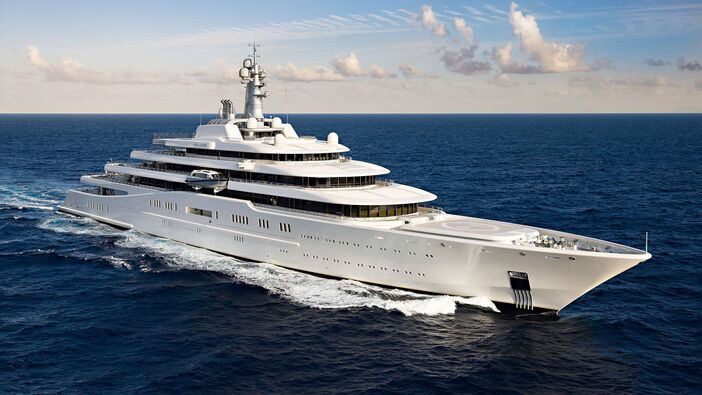 With features such as a gym, a dance floor, two helipads, and even bulletproof windows in the master suite for extra security – what more could one need? Built by Blohm & Voss back in 2010 and still looking as fresh as ever – take your next trip aboard Eclipse to feel what it's like to live life on top!
The Jaw-Dropping Scheherazade Superyacht
Have you ever dreamed of having a luxurious and lavish getaway aboard a superyacht? If so, then the Scheherazade is the perfect yacht for you! Built by Lurssen in 2020 at an estimated price of $700 million, this 459 ft. motor yacht is equipped with all the amenities you could ever need.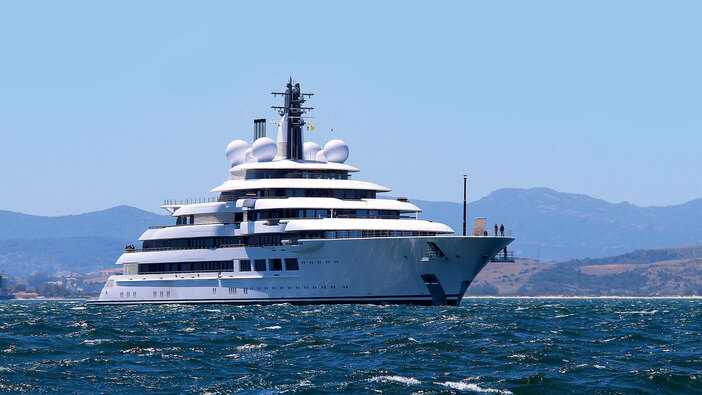 With its two helipads, two jacuzzis, movie theater, spa and gym on board – plus two outdoor fire pits to marvel at the stars – it's truly an experience like no other. Let your imagination run wild as you explore all that this incredible yacht has to offer.
Take a Step Inside the Extraordinary World of Blue - The World's Largest Megayacht.
Launched in 2022 by Lurssen, this 524 ft. behemoth can accommodate 48 pampered guests in 24 luxurious staterooms. Featuring two helipads, a teak-paneled deck, and a steel hull with an aluminum superstructure, Blue will leave you in awe with its exquisite naval architecture.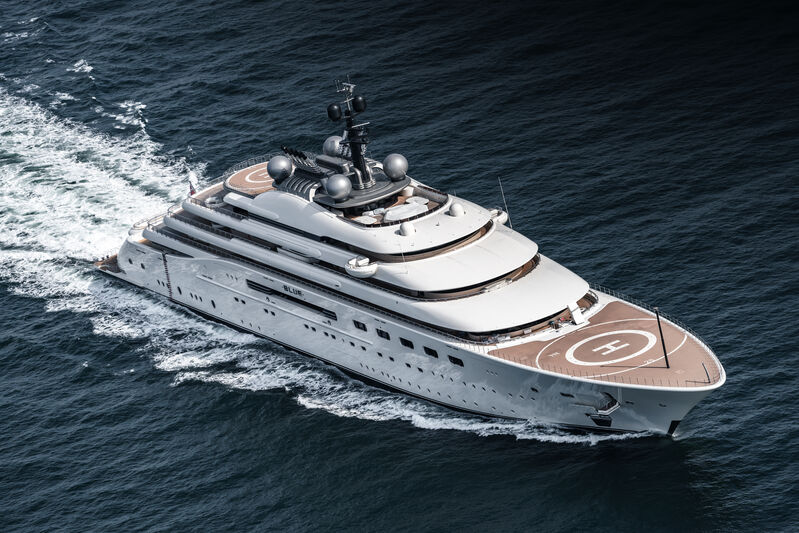 From state-of-the-art amenities to unparalleled comfort and style, every detail has been crafted to perfection for the 80 lucky crew members under its $600 million estimated price tag! Embark on an unforgettable journey aboard "Blue" and make your wildest dreams of maritime luxury come true!
The "Untouchable" Azzam - The Most Secure Superyacht in the World
There is no better option than the Azzam. This 590-foot marvel of maritime engineering was built by Lurssen Yachts in 2013 with a staggering price tag of around $600 million. Equipped with state-of-the-art technology such as a missile defense system and bulletproof master suite, this superyacht ensures total safety for its passengers.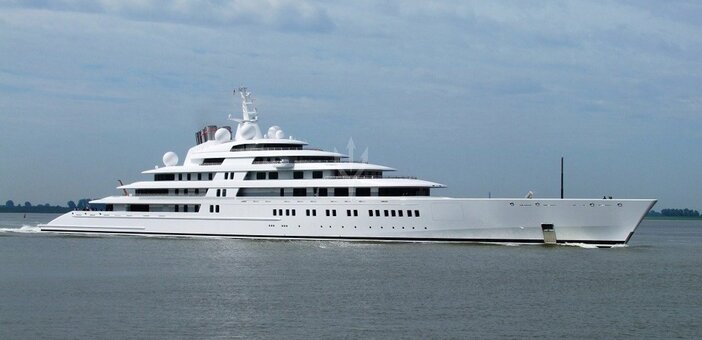 Its sheer size allows it to reach speeds of up to 35 mph and yet remain incredibly stylish, having been designed from the inside out. Although its exact price remains unknown, one thing is certain: when it comes to privacy and luxury on the sea, nothing beats the untouchable Azzam!
Explore the Magnificence of Crescent - The World's Most Mysterious Superyacht
Explore a world of beauty, wealth and mystery aboard the awe-inspiring Crescent- the world's most expensive superyacht. Lurssen achieved the impossible when they constructed this 445ft maritime marvel in 2018. Boasting 40 crew members and worth an estimated $600 million, this exquisite vessel is equipped with some impressive features.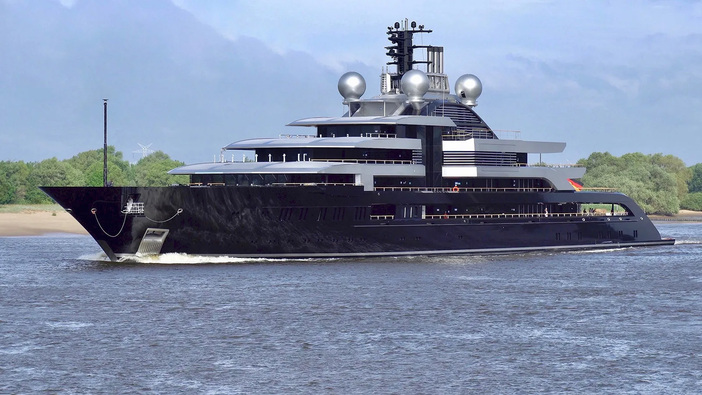 Enjoy summer days lounging at beach clubs or taking a dip in one of its luxurious pools, followed by an evening spent being entertained by its state-of-the art system. As speculations surround its interior design, one thing is certain – you're sure to turn heads as you sail away on Crescent!
Catch the Sun on the Solaris - Exploring The World's Largest Yacht!
If you're in search of a sea-faring vessel that can take you and your crew to far-off shores, then look no further than the Solaris. Boasting a size of 461 ft this explorer yacht is one of the biggest vessels made by Lloyd Werft and features a crane for launching toys, subs, and tenders.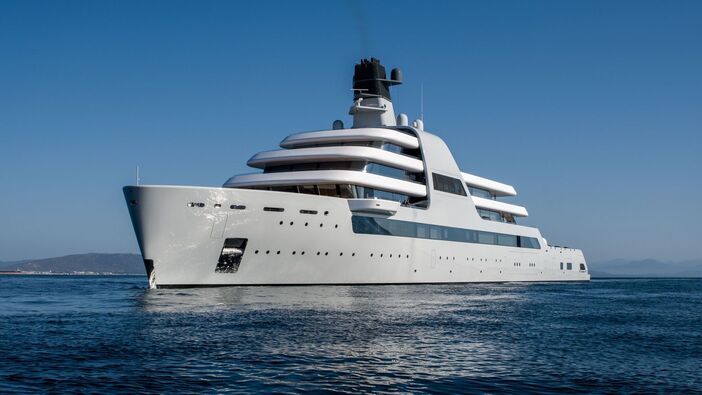 But that's not all – at its heart lies an exquisite beach club on the top floor where you can relax under the sun after hours filled with play and exploration. Estimated to be worth around $600 million, the Solaris symbolizes luxury, class and adventure like nothing else!
Welcome to the "A+", The Fourth Largest Luxury Yacht in the World
Step aboard Lurssen Yachts' $527 million A+, the fourth largest luxury yacht in the world. This 482 foot long behemoth offers an array of amenities for its 79-person crew including a jacuzzi, swimming pool, double helipad, cinema, gym and multiple conference rooms.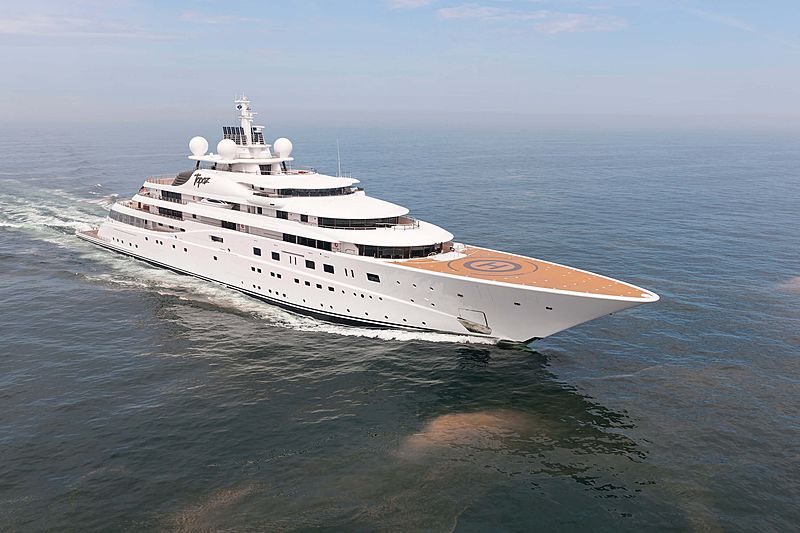 Launched into the sea in 2012, it was hailed as a feat of engineering that revolutionized superyachts – though it may have been surpassed by newer models since then.This may be so, but you're still in for an incredible time. Experience true opulence and let your worries float away on board this incredible vessel!
Explore the World in Unmatched Style with Nord - the $500 Million Superyacht
Experience a journey of a lifetime aboard Nord – the remarkable $500 million superyacht that offers incomparable luxury and exploration capabilities. Built by Lurssen in 2020, Nord is 465 ft long, with 40 crew members ready to cater to passengers' needs.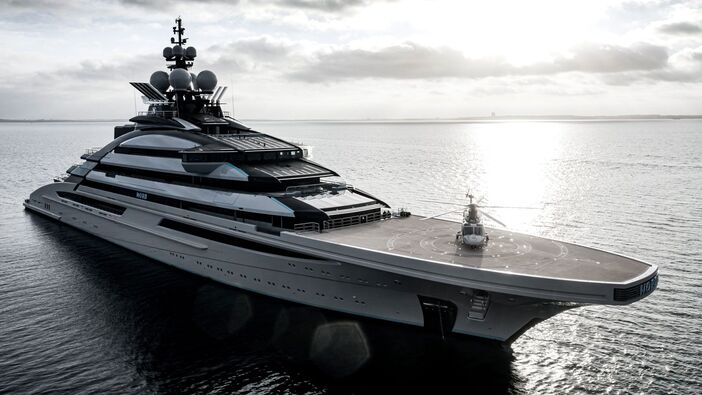 Nord's exterior is truly remarkable; its distinctive bow aesthetic has never been seen before on any yacht and makes for an unforgettable first impression. The thoughtful selection of amenities ensures there will be plenty of activities onboard including swimming pools, sports centers, and diving opportunities. Make your dream vacation come true with Nord and explore the world like nobody else!
A Ship of Peace That's Anything But Ordinary
They say "the devil is in the details" and this luxuriously designed superyacht, Fulk Al Salamah, lives up to its name. A mere $500 million – though that exact amount may never be known. This 538-ft vessel was designed by Mariotti and launched back in 2016 with a full complement of 100 crew members at her beck and call.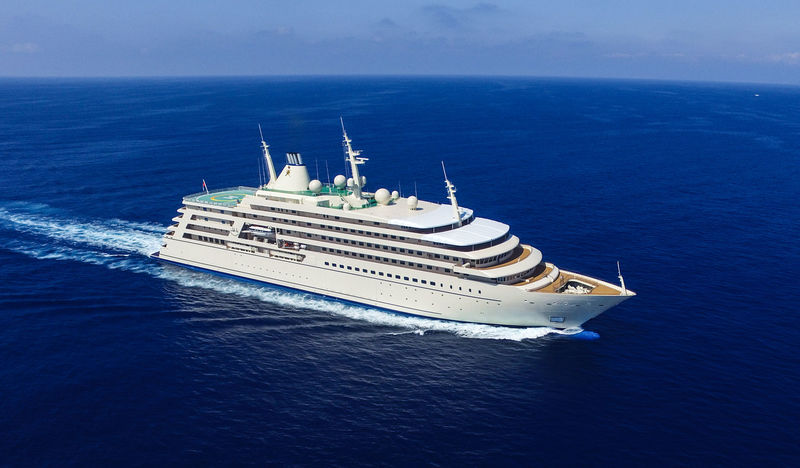 Currently serving as a support vessel for the Royal Navy of Oman, one can only imagine the kind of indulgent holidays she could provide if given the chance! Facilities include poolside bars and spa services, sailing on Fulk Al Salamah would truly be a voyage unlike any other.
The Magnificent $440 Million Motor Yacht "A"
The epitome of luxury and extravagance is yours for an estimated price tag of $440 million. It boasts a whopping 400 ft. length, easily making it one of the world's largest superyachts. Guests can enjoy a roomy 2,500-square-foot master bedroom and plenty of entertainment options including its own disco, helicopter hanger, 30' separate speedboat, and glass-bottom swimming pool!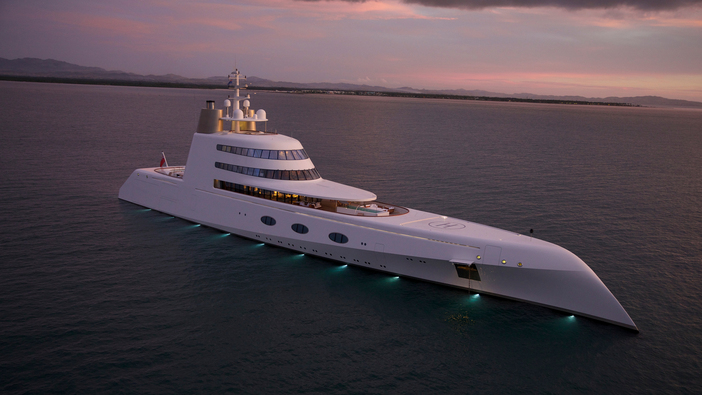 All this plus 14 rooms for guests and 42 crew members to look after your every need ensures that you'll have the best possible experience while on board this opulent vessel. Experience ultimate comfort and grandeur with the magnificent motor yacht 'A!'
Board the Most Luxurious Yacht in The World - The Flying Fox!"
Ready to escape everyday life and indulge in a world of ultimate luxury? Step aboard the Flying Fox – the most opulent charter yacht ever built. At 446 feet long, this floating resort has become a popular destination among A-list celebrities such as Beyonce and Jay-Z – but you don't have to be famous to experience its extravagance.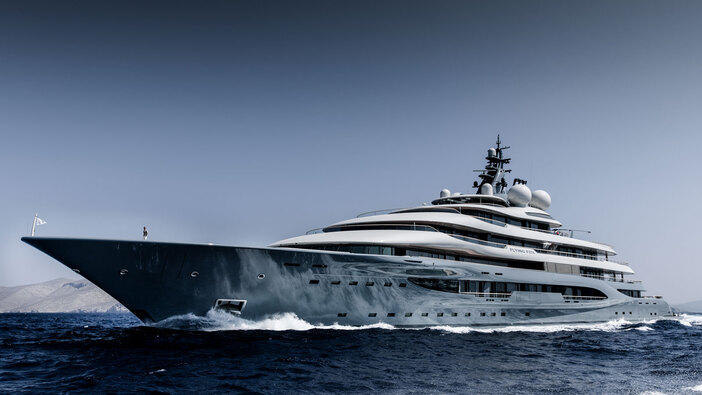 With 54 crew members on board, passengers will be able to enjoy deluxe amenities like an on-board movie theater, beauty salon, spa and pool as well as a state-of-the art gymnasium. All you need is $3 million for one unforgettable week aboard the Flying Fox!
Experience Lavish Luxury on the Dubai Yacht!
Have you ever dreamt of living like royalty? With the Dubai Yacht, your dreams could come true! This towering 531-ft. vessel is owned by none other than the ruler of Dubai himself and has undergone years of expert construction. It currently boasts a crew size of 88 dedicated members, making it one to truly experience lavish luxury.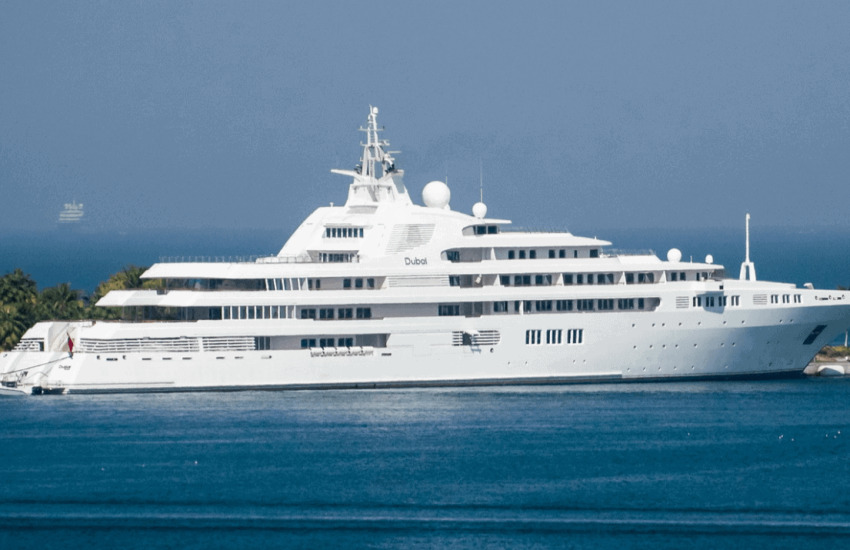 Every inch of this floating palace is stunningly adorned with blue and burgundy tones—from its fine dining room capable of seating 90 VIP guests to its split-level owner's deck complete with social areas promenading five decks in height. Make your way onboard the awe-inspiring Dubai Yacht today!
Defend Against Pirate Attack with the One-of-a-Kind Radiant Superyacht!
Set sail in style on the one-of-a-kind Radiant superyacht, equipped with a full arsenal of defensive capabilities to keep prospective pirates at bay. Boasting an impressive 361 feet long and 44 crew members, this Lurssen Yachts build from 2009 has everything a sailing enthusiast could wish for.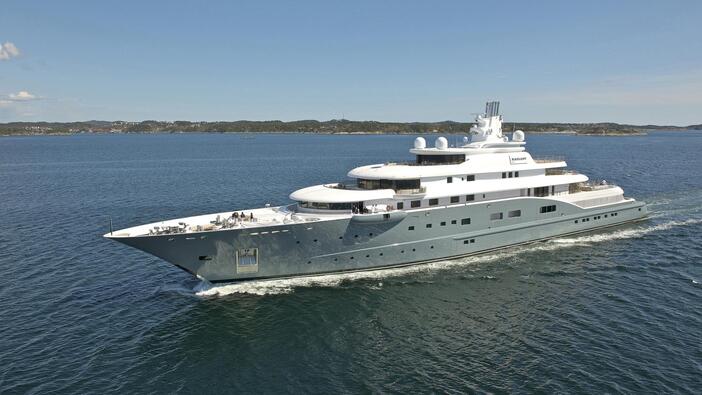 With over $320 million invested, you can feel safe and secure while cruising aboard the Radiant – including its very own water cannon to ward off any undesirable visitors! In addition to its advanced anti-, theft technology, the Radiant also offers more recreational features than you'd find anywhere else on open waters.
Explore the Mysterious Depths of the Luxurious Al Said Superyacht
The money doesn't matter. What matters is the sheer magnificence of this beast. Lurssen, a German shipyard, drew up plans to construct this 508 ft superyacht shrouded in mystery and grandeur. Although no one knows its precise price tag, it was estimated to cost $300 million when it was completed in 2007.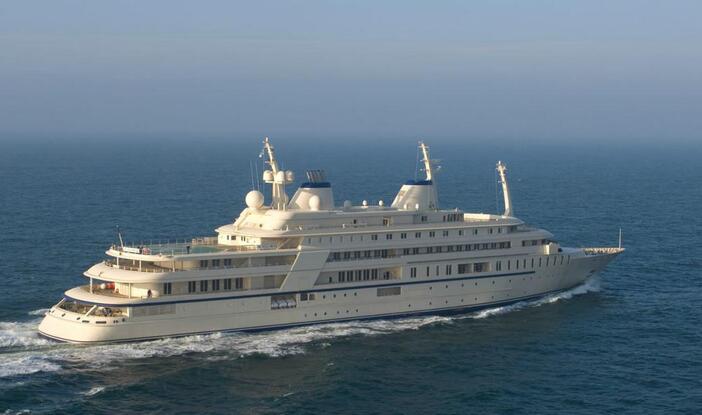 The Al Said has enough space for a 50-person orchestra in its colossal concert room – an unmistakable mark of serenity and extravagance befitting a vessel so exclusive that words can hardly describe it entirely. Only few have seen the marvels of this superb yacht; you could be next!
Step onto the Serene and Sail into Luxury
With a price tag of $300 million, you can be sure that the yacht named Serene is no ordinary vessel. Constructed by Fincantieri in 2011, this luxurious 439 foot-long yacht has been known to leave bystanders in awe with its array of state-of-the-art features.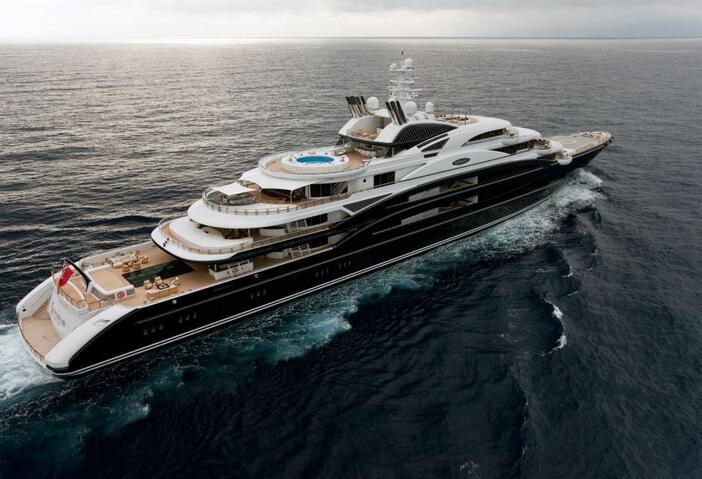 As if having two helipads and a submarine isn't enough, the Serene also boasts multiple swimming pools and an underwater viewing room to give guests an extraordinary experience while they sail across the sea. Sail on board this private paradise where those aboard live like royalty and enjoy the multi-million dollar serenity of this superb craft.
Hop aboard and take a tour of luxury with the Pelorus-one of the world's biggest yachts at 377 ft.!
With an estimated cost of $300 million, this 2003 Lurssen model certainly churns out double-takes when sailing around. Cruise comfortably at speeds up to 20 knots with 46 crew members on board, and enjoy a private deck attached to the master suite that can't be seen from any other part of your charter.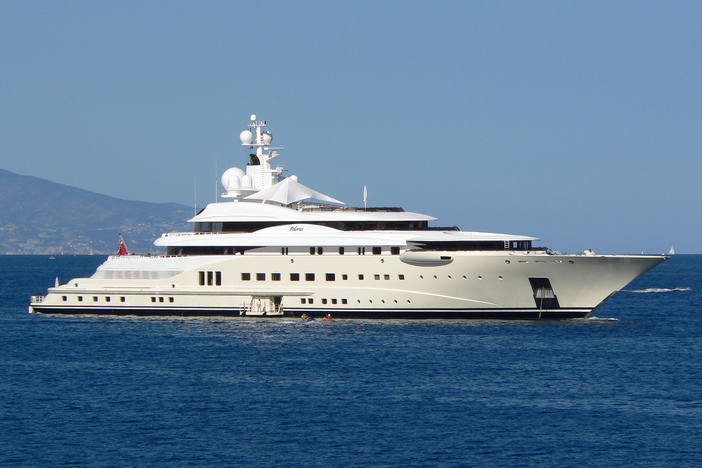 You'll also get two helipads, landing boats, jet skis and all sorts of other luxurious amenities that are perfect for entertaining guests onboard or hosting a memorable gathering while you explore places far away. So why wait? Set sail on Pelorus – a yacht like no other!
The Luxurious and Stylish Dilbar, a $256 Million Yacht
Step aboard the luxurious $256 million yacht, Dilbar. Once known as Project Omar, this 360-foot boat is the perfect way to experience luxury at sea. From its opulent spa with pool, its beach club and private cinema and spacious cabin featuring uninterrupted views of the ocean, you'll find everything you need for an unforgettable journey.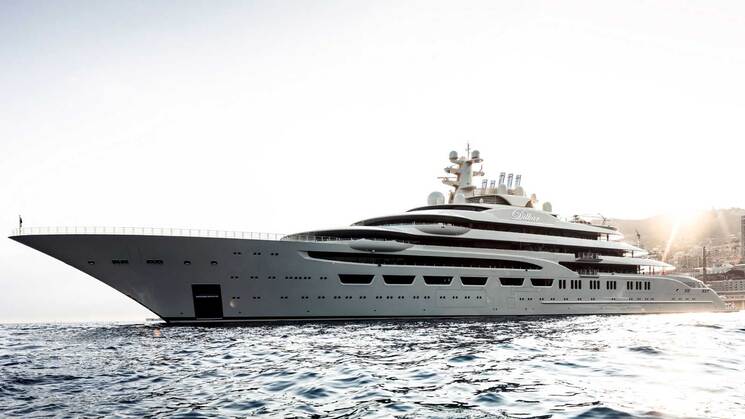 And that's not all — on board you'll also find a grand dining room and a piano salon that exude elegance and sophistication. Though smaller than many other yachts in its class, it offers no less refinement or style! Sail away aboard Dilbar for an experience like no other.
A Yacht Fit for a Master Director - Truth Is Stranger Than Fiction!
The Seven Seas—the second superyacht built by Oceanco—is an awe-inspiring sight. Constructed with the master director Steven Spielberg in mind, this 358 ft. marvel of engineering worthy of its $250 million estimated price tag offers more than just unparalleled luxury.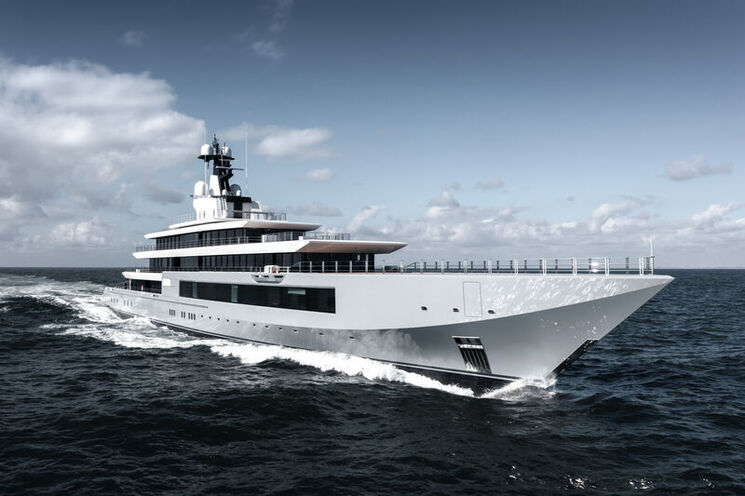 With 30 crew members onboard and ready to serve, you can experience the breathtaking beauty of the sea from your bespoke cabins as well as enjoy modern amenities like swimming pools, spas and entertainment centers that guarantee days filled with fun and relaxation. Make sure you don't miss out on discovering all that this one-of-a-kind yacht has to offer!
Unparalleled Luxury on the High Seas: The Al Mirqab Superyacht
Step aboard the luxurious Al Mirqab superyacht and into a world of unmatched opulence. This 436-ft vessel was completed in 2008 to much acclaim, having been hailed as the second most beautiful yacht in the world.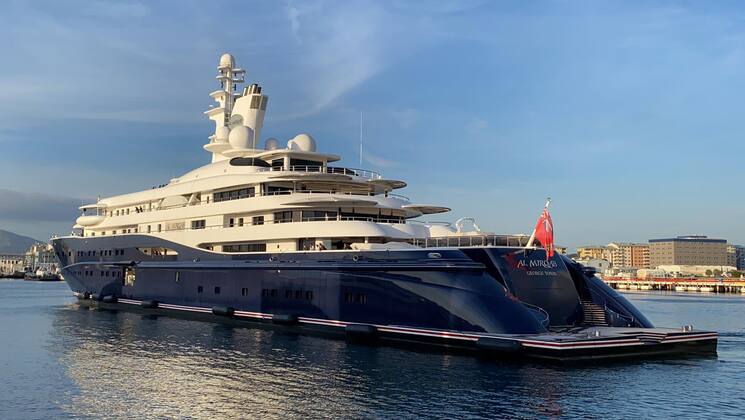 Boasting an awe-inspiring array of features, the boat has them all – from 10 staterooms and VIP suites, to a helipad, giant pool, cinema and jacuzzi. Plus it's equipped with all manner of watersports equipment that'll make your time on board extra special. But luxury doesn't come cheap – this pride of the seas is estimated to have cost $250 million! So step onboard for unparalleled luxury at sea today!
A Superyacht with Beach-like Experiences!
This $210 million superyacht includes its own beach-like experience! Built by Blohm & Voss in 1990, the 344 ft. vessel offers multiple exciting amenities such as a 24 karat gold embellished pool with retractable roof, a helicopter, and even a hydraulic platform extending from its side to provide visitors with an amazing sand covered beach experience in the middle of open water.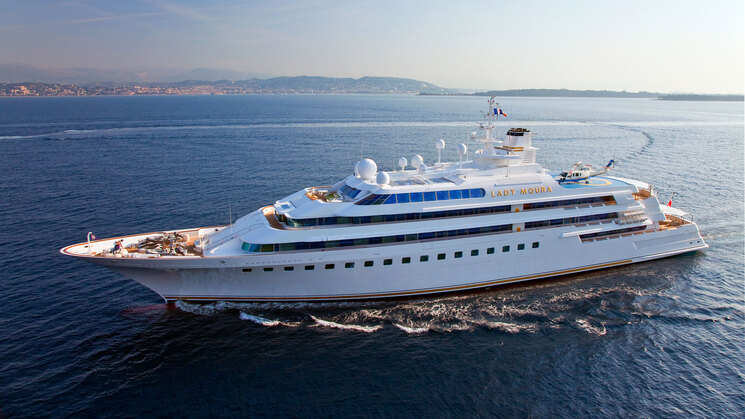 But that's not all; Lady Moura is also known for her misadventures—in 2007 during Cannes Film Festival she ran aground and took on water. That's right; you'll get your money's worth when you ride aboard this impressive superyacht!
The Eight Arms Of Luxury - Cruise in Luxury with the Fabulous Octopus Superyacht
Boasting opulent amenities and luxurious features, this 414-ft. vessel is sure to make your vacation as memorable as it is comfortable. Crafted by Lurssen Yachts in 2003 and valued at an estimated $200 million, the Octopus comes equipped with 56 crew members to satisfy all your needs while cruising around in style.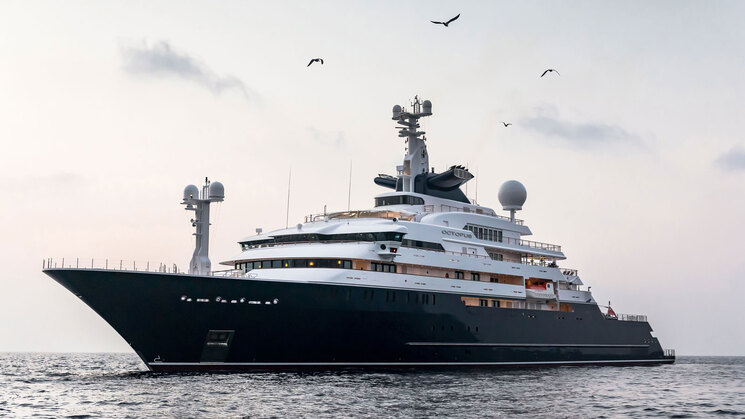 Revel in its remarkable glass-bottom swimming pool, classic bar with whirlpool, basketball court, recording studio and more! And if that's not enough for you adventure seekers out there, why not take a plunge into the sea using one of its two submarines or hop on one of its two helipads?
Live Like Royalty-Welcome Aboard the Majestic Rising Sun!
Step aboard the majestic Rising Sun, a jaw-dropping 453 ft. superyacht with 82 rooms and unparalleled luxuries! Built in 2004 by Lurssen and estimated to cost over $200 million, this floating palace is the epitome of opulence.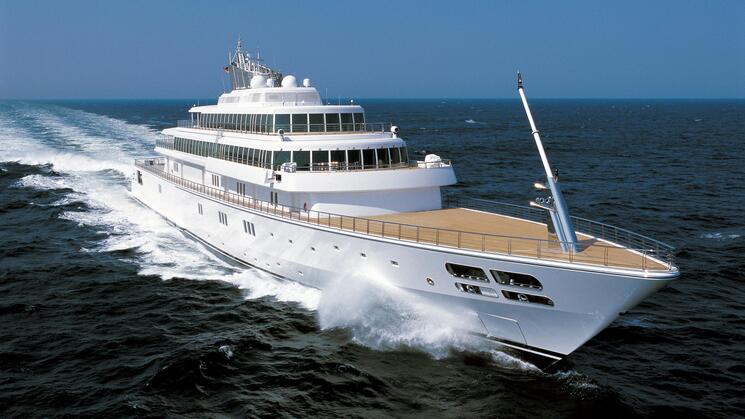 Featuring a basketball court,movie theater and a wine cellar, its crew of 45 ensures that guests experience absolute comfort in every detail. As one of 12 largest yachts in the world, even today it receives frequent upgrades for true connoisseurs of luxury living on water. So if you're looking for the finest nautical adventure money can buy – The Rising Sun awaits you!
Carving a Path of Luxury: The Ecstasea Superyacht Who Says Luxury Can't Be Affordable?
The aptly-named Ecstasea superyacht proves that it can be, costing around an approximate $200 million. This Feadship-built vessel stands 282 ft tall and comes with a 24 member crew sure to provide the ultimate in luxury service. Within its walls lies a harmonious blend of artistry and modern amenities.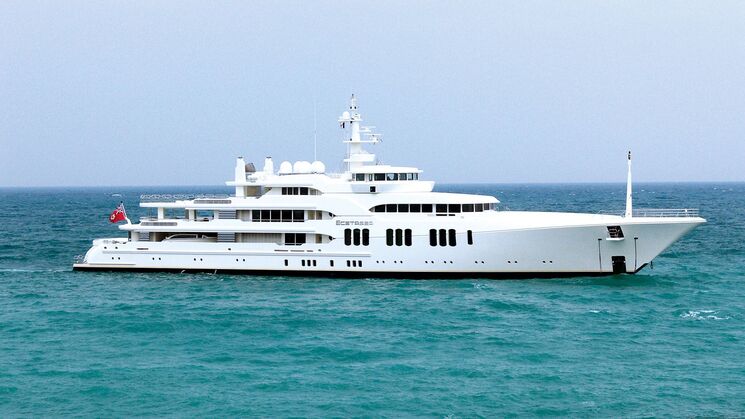 From massage rooms and saunas to gyms and indoor/outdoor bars, this floating paradise is ready to transport you into pure bliss! But this isn't just any boat—The Ecstasea has been honored with multiple design awards in recognition for its impeccable interior design details. Sail away in style on the extraordinary superyacht; the pleasure is all yours!
Cut Through The Waves On The Superyacht of Steel!
Step aboard the Man of Steel, an impressive 282-ft superyacht built by the renowned Oceanco in 2010. This modern marvel is estimated to have cost a staggering $184 million.This steel beauty offers its guests a unique experience, complete with state-of-the-art features such as a touch and go helipad, cinema, private owners deck and multiple custom built tenders.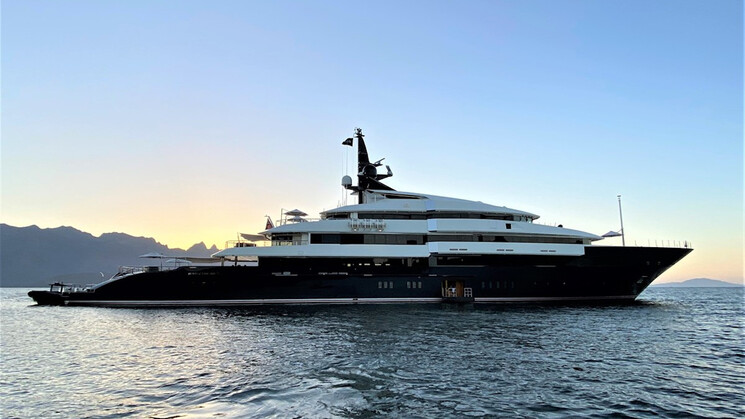 You're sure to be impressed when you take in the sleek and elegant interior that was designed with meticulous attention to detail. Enjoy your time aboard this exceptional yacht while experiencing sheer luxury on board one of the largest superyachts afloat today!
An Unbeatable Luxurious Experience Awaits on the Spectacular $180 Million Superyacht, Solandge!
Bring your friends along and embark on a luxurious journey of a lifetime aboard the awe-inspiring $180 million superyacht, Solandge. Built in 2013 by Lurssen, this 280 ft. beast holds 30 crewmembers to provide you with an unforgettable charter vacation.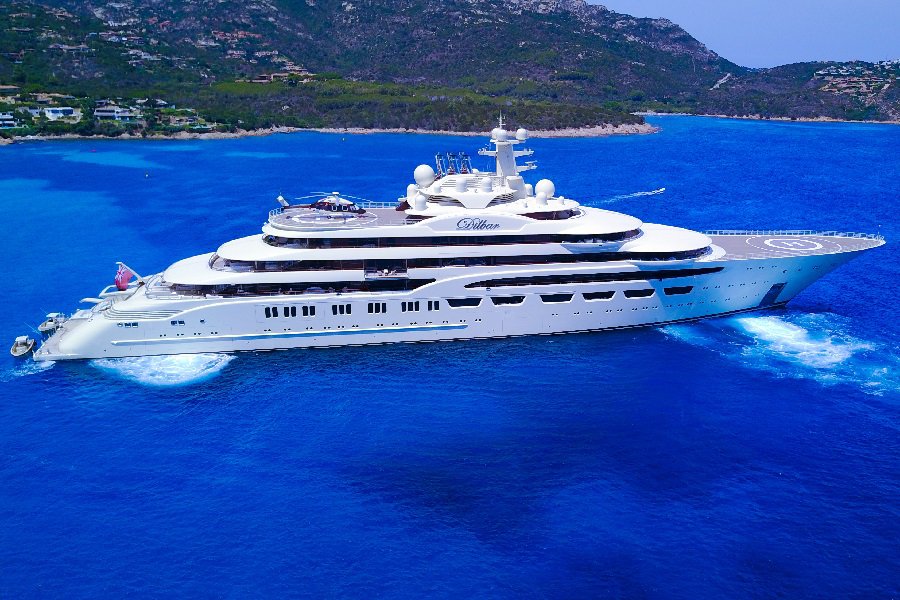 Inside, guests can enjoy numerous unique amenities such as 8 VIP suites with grand piano and Murano glass art installations for that added bit of luxury. Along with other first class amenities like swimming pools, movie rooms and massage parlors make it one of the best yachts money can buy! So don't wait any longer and plan your trip now!
Explore the Most Luxurious Yacht in the World - The Aviva!
Experience a life of luxury aboard the Aviva – One of the world's most expensive private yachts! With a whopping price tag of $150 million, this 322 feet long Abeking & Rasmussen beauty is sure to impress.If you've got champagne tastes and gucci clad sea legs,step aboard now.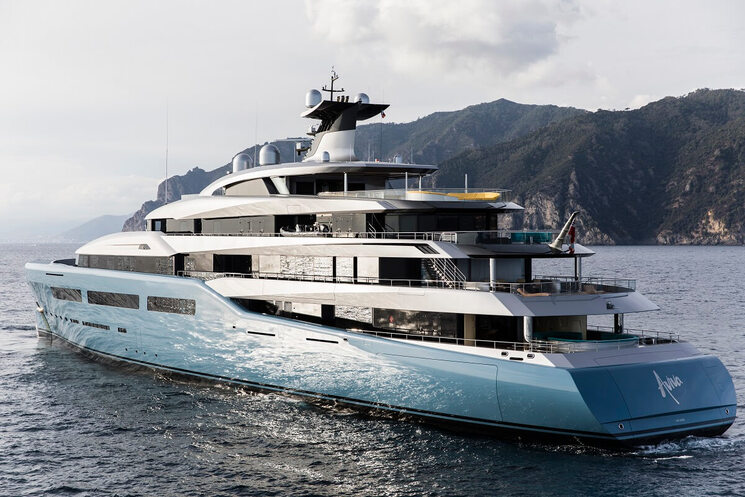 From its 25-member crew and full-size tennis court to its prestigious art collection, including pieces from Picasso himself, you'll be living in comfort and style for months at a time. Step aboard this luxurious vessel and explore what it has to offer – you won't regret it.
Luxury at its Finest: Inside Lionheart, the $150 Million Yacht with a Star-Studded Clientele
Step aboard the world's most expensive yacht and enter a realm of sheer luxury. At 295 feet long and with six luxurious VIP suites, private pools, balconies, and more – it isn't hard to see why Lionheart has become so popular among some of the world's most famous faces.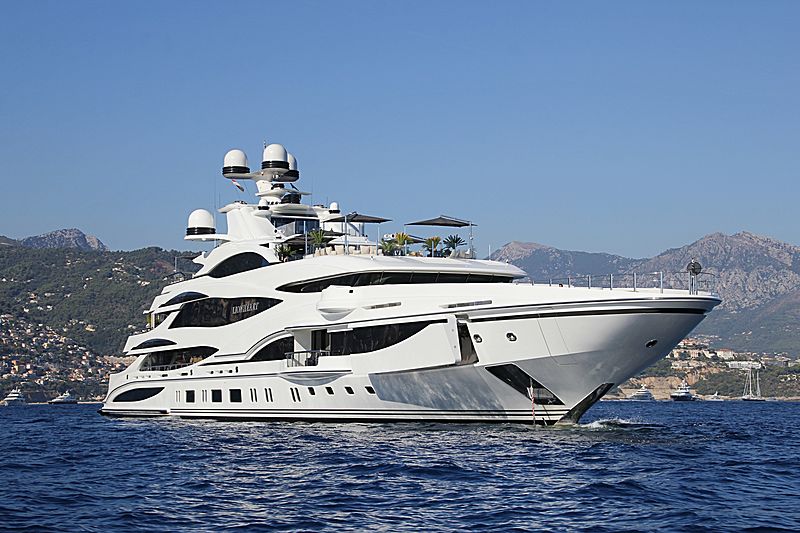 Owned by Benetti since 2016 and costing an estimated $150 million (the exact price is unknown), this superyacht has hosted everyone from Cristiano Ronaldo to Simon Cowell.Those who know their yachts might recognize that Lionheart is Benetti's largest yacht since Nabila,later renamed Trump Princess by none other than The Donald himself.
Float Your Dreams with the Million-Dollar Maltese Falcon
Sail away in style with the Maltese Falcon—the ultimate superyacht that oozes luxury and sophistication. This majestic 289 ft. vessel was built by Perini Navi back in 2006, and its eye-catching appeal is bound to turn heads wherever it sails. It's a remarkable mix of both performance and onboard space.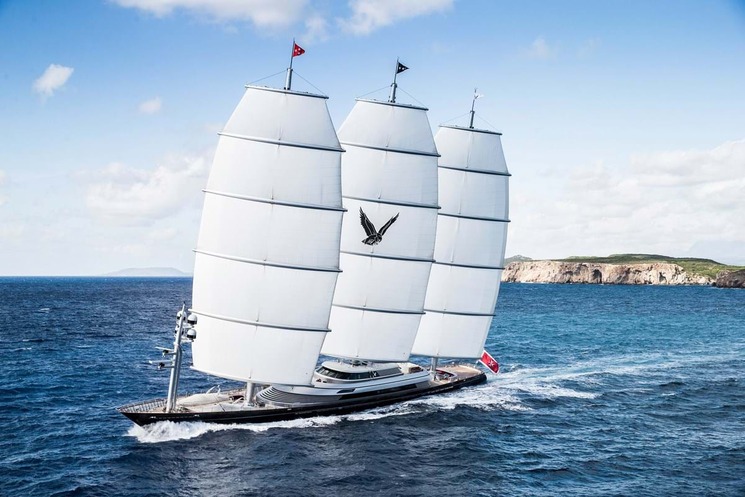 Though its exact price tag remains unknown, estimates suggest this magnificent floating masterpiece comes with a hefty price tag of $150 million! With 18 members in crew, you're guaranteed an unforgettable experience as you explore new horizons aboard this exquisite yacht worthy of kings and queens alike!
From a Visionary Mind to the Seven Seas: Step Aboard Venus - Steve Jobs' Superyacht
Cruise the oceans in luxurious style aboard Venus – the superyacht once owned by Apple founder Steve Jobs.This stunningly unique vessel boasts exterior details that are sure to turn heads, including a metallic silver paint job and stainless steel accents.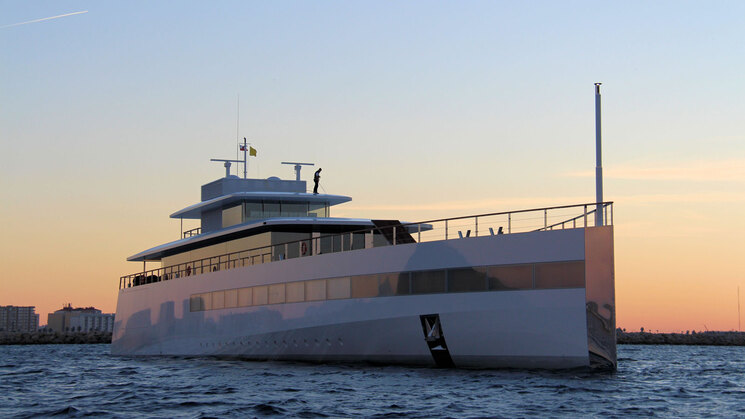 Shrouded in secrecy, not much is known about its interior layout other than its size of 260 ft. and capacity for 22 crew members. Launched in 2012 by Feadship Yachts at an estimated price tag of $138 million, this custom-built marvel with its futuristic design will take you on an adventure beyond your wildest dreams!
Sail Away in Luxury on the Legendary Savarona Superyacht
Leave the everyday world behind and embark on an unforgettable journey aboard Savarona, the luxurious superyacht that is sure to provide you with a unique experience. With a price tag estimated at $100 million and built over 88 years ago, this 408-ft vessel is one of oldest of its kind.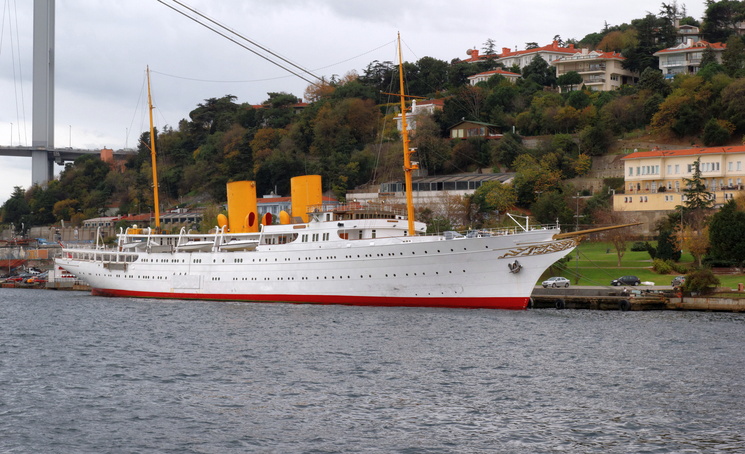 Boasting a 44-member crew, it will definitely make your dreams come true. Not to mention its impressive amenities such as water skiing and windsurfing as well as two spas with sauna and steam rooms – perfect for complete relaxation! So don't wait any longer and set sail on the historic superyacht Savarona.